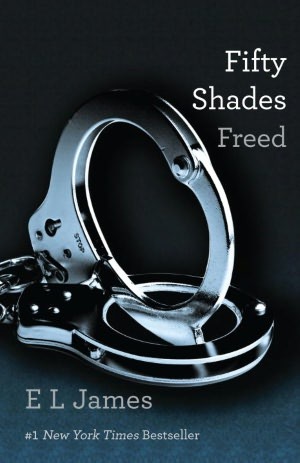 When unworldly student Anastasia Steele first encountered the driven and dazzling young entrepreneur Christian Grey it sparked a sensual affair that changed both of their lives irrevocably. Shocked, intrigued, and, ultimately, repelled by Christian's singular erotic tastes, Ana demands a deeper commitment. Determined to keep her, Christian agrees.
Now, Ana and Christian have it all—love, passion, intimacy, wealth, and a world of possibilities for their future. But Ana knows that loving her Fifty Shades will not be easy, and that being together will pose challenges that neither of them would anticipate. Ana must somehow learn to share Christian's opulent lifestyle without sacrificing her own identity. And Christian must overcome his compulsion to control as he wrestles with the demons of a tormented past.
Just when it seems that their strength together will eclipse any obstacle, misfortune, malice, and fate conspire to make Ana's deepest fears turn to reality.
About the Author
Biography
Ok so the sexy parts in this one are yes still there but it seems they are getting less rated. Where well just know there are sexy parts but either I'm just getting used to it or they are getting less out there. lol
Ok so this one I really thought that for one particular part that Christian was a donkey butt!! He is still controlling of course. But Ana is really getting tired of it. This book went really really fast. We have the baddie that we all know who that is. And Ana has an issue that when she tells Christian he kinda freaks out and becomes that butt I was talking about above.
The middle bits of this one are pretty good. Full of just things happening and really just act as a bridge to get to the sad/OMG part.
So the ending of this one is again where all the really good things happen. Ana is done with all the crap. She has told Christian off and well she almost wants to kill Mrs. Robinson. Christian goes off the deep end. Ana goes to the bank and well a lot of people are in harms way.
This one really made me cry by the end. And I didnt think I was going to love these books as much as I did.
Go Into This One Knowing
This one will take you for a loop.
"All opinions are 100% honest and my own."


a Rafflecopter giveaway
Disclaimer: Thanks to Goodreads and Amazon for the book cover, about the book, and author information. If you can not see the link above you will need to turn off your spam blocker. Buying via these above links allows my site to get a % of the sale at no cost to you. This money gets used to buy items for giveaways.
https://www.facebook.com/CrossroadReview