Ok so this one Im really only addicted to because of that cover!! I mean LOOK AT IT!!! ITS SO PRETT!!! This one comes out next month!
Maria Dahvana Headley is the author of the upcoming young adult skyship novel MAGONIA from HarperCollins, the dark fantasy/alt-history novel QUEEN OF KINGS, the internationally bestselling memoir THE YEAR OF YES, and THE END OF THE SENTENCE, a novella co-written with Kat Howard, from Subterranean. With Neil Gaiman, she is the New York Times-bestselling co-editor of the monster anthology UNNATURAL CREATURES, benefitting 826DC.
Her Nebula and Shirley Jackson award-nominated short fiction has recently appeared on Tor.com, and in The Toast, Clarkesworld, Lightspeed, Nightmare, Apex, The Journal of Unlikely Entomology, Subterranean Online, Glitter & Mayhem and Jurassic London's The Lowest Heaven and The Book of the Dead, and will soon appear in Uncanny, Shimmer, and more. It's anthologized in the 2013 and 2014 editions of Rich Horton's The Year's Best Fantasy & Science Fiction, & Paula Guran's 2013 The Year's Best Dark Fantasy & Horror, in The Year's Best Weird Volume 1, ed. Laird Barron, and in Wastelands, Vol 2, among others. She's also a playwright and essayist.
She grew up in rural Idaho on a sled-dog ranch, spent part of her 20's as a pirate negotiator and ship marketer in the maritime industry, and now lives in Brooklyn in an apartment shared with a seven-foot-long stuffed crocodile.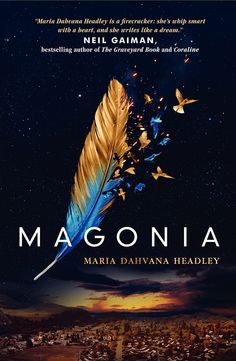 This title will be released on April 28, 2015.
Neil Gaiman's Stardust meets John Green's The Fault in Our Stars in this fantasy about a girl caught between two worlds…two races…and two destinies.

Aza Ray is drowning in thin air.

Since she was a baby, Aza has suffered from a mysterious lung disease that makes it ever harder for her to breathe, to speak—to live.

So when Aza catches a glimpse of a ship in the sky, her family chalks it up to a cruel side effect of her medication. But Aza doesn't think this is a hallucination. She can hear someone on the ship calling her name.

Only her best friend, Jason, listens. Jason, who's always been there. Jason, for whom she might have more-than-friendly feelings. But before Aza can consider that thrilling idea, something goes terribly wrong. Aza is lost to our world—and found, by another. Magonia.

Above the clouds, in a land of trading ships, Aza is not the weak and dying thing she was. In Magonia, she can breathe for the first time. Better, she has immense power—and as she navigates her new life, she discovers that war is coming. Magonia and Earth are on the cusp of a reckoning. And in Aza's hands lies the fate of the whole of humanity—including the boy who loves her. Where do her loyalties lie?
"All opinions are 100% honest and my own."


Disclaimer: Thanks to Goodreads and Amazon for the book cover, about the book, and author information. If you can not see the link above you will need to turn off your spam blocker. Buying via these above links allows my site to get a % of the sale at no cost to you. This money gets used to buy items for giveaways.
Love doing your nails? Well find a new way to do it without all the smell and fuss! Jamberry nail wraps are the way to go! They are vinyl wraps that no dry time and are sold for $15 a sheet that will get you 2 manicures and 2 pedicures! And you can even buy them Buy 3 Get 1 Free!
http://crossroads.jamberrynails.net
The best part is if you buy from me I will send you a loyalty card. And when you fill it up you get free products! Want more for free? Well host a party! Its free and It can even be done online!
http://crossroads.jamberrynails.net/host/
https://www.facebook.com/CrossroadReview