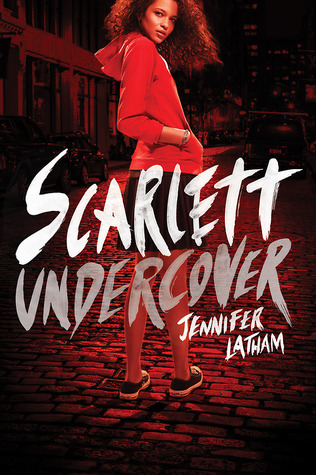 A voice-driven mystery perfect for fans of Veronica Mars.
Meet Scarlett, a smart, sarcastic, kick-butt, Muslim American heroine, ready to take on crime in her hometown of Las Almas. When a new case finds the private eye caught up in a centuries-old battle of evil genies and ancient curses, Scarlett discovers that her own family secrets may have more to do with the situation than she thinks -- and that cracking the case could lead to solving her father's murder.
Jennifer Latham delivers a compelling story and a character to remember in this one-of-a-kind debut novel.
About the Author
"I write because it's the only job I've been able to stick to for more than two years. Seriously.
I've lived lots of different places. Here's the list: New York City; San Francisco; Augusta, GA; Buffalo, NY; Philadelphia, PA; Madrid; Providence, RI; and now…Tulsa, OK.
I've had some really weird and really normal jobs. The weirdest was helping out with autopsies. The one I'd go back to if I couldn't write is being a school psychologist. The one I still do sometimes is teach yoga.
I live with my two daughters, two dogs, a cat, three turtles, three hermit crabs, a bunch of fish, and a husband (mine, of course).
I love watching people.
And I love writing about the people who live inside my head, even when they don't play nice."
This book was pretty good. Great love interest, LOTS of
DIVERSITY, a hint of paranormal and an overall great book! You should deff read this one if it sounds like its up your alley.
The story to start will drag you in and well even when things get complicated its still good. And let me tell you it will get complicated.
Go Into This One Knowing
Romance, Diversity, and well Complications!
* "This whip-smart, determined, black Muslim heroine brings a fresh hard-boiled tone to the field of teen mysteries."—
Kirkus Reviews, starred review
"Scarlett is tough and fiercely independent...The supernatural mystery is engaging and the Muslim American teenage sleuth will be a welcome addition to YA shelves...An heir apparent to Veronica Mars."—
SLJ
"Why didn't they have splendidly thoughtful and executed books for young adults when I was one myself? Jennifer Latham touches a deep pulse of teenage angst, introduces a grandly original P.I. heroine, and taps a yet-deeper pulse of 2015 America. Embracing a unique debut novel."—
James Ellroy, bestselling author of L.A. Confidential and Perfidia
"
Scarlett Undercover
is a unique mystery, drawing readers into an underworld full of jinn and ancient family secrets. With its capable, relatable heroine, a twisting plot, and a cast of diverse characters, Latham's tale will keep you on your toes, turning pages long into the night."—
Ryan Graudin, author of The Walled City
"Witty and suspenseful,
Scarlett Undercover
is an inventive mystery steeped in Islamic tradition, starring a hard-boiled heroine with a heart."—
Sheba Karim, author of Skunk Girl
"All opinions are 100% honest and my own."


a Rafflecopter giveaway
Disclaimer: Thanks to Goodreads and Amazon for the book cover, about the book, and author information. If you can not see the link above you will need to turn off your spam blocker. Buying via these above links allows my site to get a % of the sale at no cost to you. This money gets used to buy items for giveaways.
https://www.facebook.com/CrossroadReview