This week on Twofer Tuesday we have one of my fav series! The Elite by Kiera Cass!
Remember click the names of the reviews to be taken to their full post.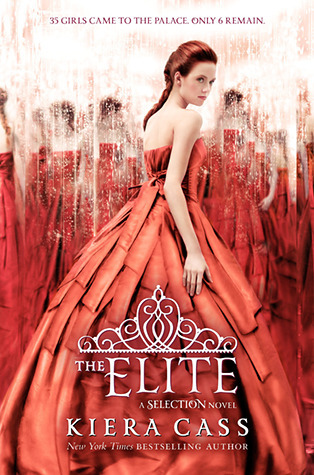 The hotly-anticipated sequel to the New York Times bestsellerThe Selection.
Thirty-five girls came to the palace to compete in the Selection. All but six have been sent home. And only one will get to marry Prince Maxon and be crowned princess of Illea.
America still isn't sure where her heart lies. When she's with Maxon, she's swept up in their new and breathless romance, and can't dream of being with anyone else. But whenever she sees Aspen standing guard around the palace, and is overcome with memories of the life they planned to share. With the group narrowed down to the Elite, the other girls are even more determined to win Maxon over—and time is running out for America to decide.
Just when America is sure she's made her choice, a devastating loss makes her question everything again. And while she's struggling to imagine her future, the violent rebels that are determined to overthrow the monarchy are growing stronger and their plans could destroy her chance at any kind of happy ending.
About the Author
Biography
Jessica Porter of Crossroad Reviews
Click above to read the full review
I hadn't read this one since it came out. And I have to say that rereading these have been a joy! Following America's story is a wonderful journey of love, romance, finding herself, and more. I loved reading again about her happiness and sadness. Again if you haven't picked these up you are really missing out!
This book still makes me cringe, gasp, and swoon!
This is another one that I switched via ebook, print, and audio.
Cherie Searles of Cherie Reads
Click above to read the full review
Ughhh.... I was holding out hope that I would like
The Elite
more than I liked
The Selection
, but sadly that was not the case.
One of my main problems with the first book was the lack of world-building and that is about the only part of this book that was improved upon over the first. We learn much more about the history of the country and how the caste system was set up, and about why things are the way they are. Although some of my questions from the first book were answered, I still don't really feel like this world is real. It doesn't seem fully fleshed out to me.
"All opinions are 100% honest and my own."
Disclaimer: Thanks to Goodreads and Amazon for the book cover, about the book, and author information. If you can not see the link above you will need to turn off your spam blocker. Buying via these above links allows my site to get a % of the sale at no cost to you. This money gets used to buy items for giveaways.
https://www.facebook.com/CrossroadReview