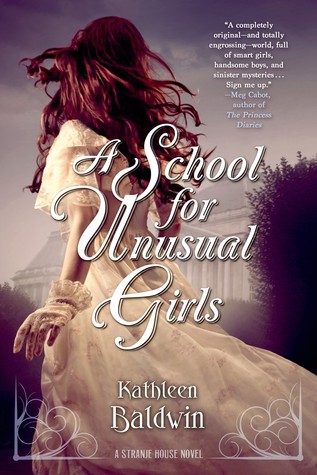 The launch of a captivating new YA series set in Regency England that #1 New York Times bestselling author Meg Cabot calls "completely original and totally engrossing."
It's 1814. Napoleon is exiled on Elba. Europe is in shambles. Britain is at war on four fronts. And Stranje House, a School for Unusual Girls, has become one of Regency England's dark little secrets. The daughters of the beau monde who don't fit high society's constrictive mold are banished to Stranje House to be reformed into marriageable young ladies. Or so their parents think. In truth, Headmistress Emma Stranje, the original unusual girl, has plans for the young ladies—plans that entangle the girls in the dangerous world of spies, diplomacy, and war.
After accidentally setting her father's stables on fire while performing a scientific experiment, Miss Georgiana Fitzwilliam is sent to Stranje House. But Georgie has no intention of being turned into a simpering, pudding-headed, marriageable miss. She plans to escape as soon as possible—until she meets Lord Sebastian Wyatt. Thrust together in a desperate mission to invent a new invisible ink for the English war effort, Georgie and Sebastian must find a way to work together without losing their heads—or their hearts...
About the Author
Biography
This story was amazing!!! It gives a what if story of the historical events of 1814. And it was so yummy. I really wish that it would have ended on a better note. As book two is going to be in Tess's POV. So I really hope that we get more of Geogie and Sebastian. As their future is left very open.
This is what I wished Maid of Secrets would have been like! Where that one made me want to go take a nap. This one I finished in a few hours. I was even reading it while eating dinner lol. It is very fast paced and didnt drag. I think it could have had a little more on the end but it was still very good.
The characters each had their own voices and I have to say that I wouldn't mind one book in each characters POV. And then maybe a last novel that goes through all of them. lol. If you can't tell I'm hooked! This book has it all. Mystery, twists, turns, murder, a slight paranormal feel, romance, etc.
I will be crying and drooling until book two comes out. And this is deff. one that I REALLY REALLY want a signed copy to grace my shelf.
I do have a few questions for the author. All the talk of whips and things in the beginning of this was that any flack to go with all the 50 shades things out there lol. Because, I thought it was very fitting and very funny.
And bravo you made me cry on more than one occasion for this book lol. Yes thats a good thing!
Go Into This One Knowing
Hints of Paranormal, no love triangle, a little hint of insta-love (but swoon worthy), Suspense, Thrills, love
"All opinions are 100% honest and my own."


The cover of the ARC is different from the above.
a Rafflecopter giveaway
Disclaimer: Thanks to Goodreads and Amazon for the book cover, about the book, and author information. If you can not see the link above you will need to turn off your spam blocker. Buying via these above links allows my site to get a % of the sale at no cost to you. This money gets used to buy items for giveaways.
https://www.facebook.com/CrossroadReview