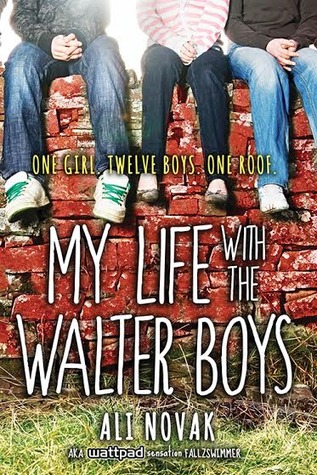 My Life with the Walter Boys centers on the prim, proper, and always perfect Jackie Howard. When her world is turned upside down by tragedy, Jackie must learn to cut loose and be part of a family again.
Jackie does not like surprises. Chaos is the enemy! The best way to get her successful, busy parents to notice her is to be perfect. The perfect look, the perfect grades-the perfect daughter. And then...
Surprise #1: Jackie's family dies in a freak car accident.
Surprise #2: Jackie has to move cross-country to live with the Walters-her new guardians.
Surprise #3: The Walters have twelve sons. (Well, eleven, but Parker acts like a boy anyway)
Now Jackie must trade in her Type A personality and New York City apartment for a Colorado ranch and all the wild Walter boys who come with it. Jackie is surrounded by the enemy-loud, dirty, annoying boys who have no concept of personal space. Okay, several of the oldest guys are flat-out gorgeous. But still annoying. She's not stuck-up or boring-no matter what they say. But proving it is another matter. How can she fit in and move on when she needs to keep her parents' memory alive by living up to the promise of perfect?
About the Author
Ali Novak is a twenty-three-year-old Wisconsin native and recent graduate of the University of Wisconsin-Madison's creative writing program. She started writing her debut novel My Life with the Walter Boys when she was only fifteen, and since then, her work has received more than 100 million hits online. When she isn't writing, Ali enjoys Netflix marathons and traveling with her husband Jared. You can follow Ali on Twitter @Fallzswimmer and Instagram @alinovak.
This one didnt work out for me. Although I did finish it and didnt DNF it I am still only giving it 1 star for the fact that it was full of
clichés and well the ending what can I say about the ending. Ya there isn't much to say about it. I know this is a series but I don't have much hope for it.
Go Into This One Knowing
"All opinions are 100% honest and my own."


a Rafflecopter giveaway
Disclaimer: Thanks to Goodreads and Amazon for the book cover, about the book, and author information. If you can not see the link above you will need to turn off your spam blocker. Buying via these above links allows my site to get a % of the sale at no cost to you. This money gets used to buy items for giveaways.
https://www.facebook.com/CrossroadReview