Welcome to my new meme! Every Tuesday you will get to read about a featured book. Each post will have two reviews! One review will be all for the book and the other review will not be. This way you get both someone who loved it and someone who didnt! I think this is a great meme that will help a lot of people find more books! This week we have The Jewel by Amy Ewing!
When I chose this review I so wasn't paying attention. This will be the only 3 star review posted for this meme.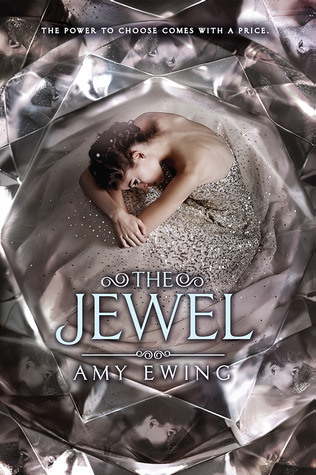 The Jewel means wealth. The Jewel means beauty. The Jewel means royalty. But for girls like Violet, the Jewel means servitude. Not just any kind of servitude. Violet, born and raised in the Marsh, has been trained as a surrogate for the royalty—because in the Jewel the only thing more important than opulence is offspring.
Purchased at the surrogacy auction by the Duchess of the Lake and greeted with a slap to the face, Violet (now known only as #197) quickly learns of the brutal truths that lie beneath the Jewel's glittering facade: the cruelty, backstabbing, and hidden violence that have become the royal way of life.
Violet must accept the ugly realities of her existence... and try to stay alive. But then a forbidden romance erupts between Violet and a handsome gentleman hired as a companion to the Duchess's petulant niece. Though his presence makes life in the Jewel a bit brighter, the consequences of their illicit relationship will cost them both more than they bargained for.
Amy Ewing is the young adult author of
The Jewel
, the first in a trilogy from HarperTeen, coming out September 2014.
She grew up in a small town outside Boston, where her librarian mother instilled a deep love of reading at a young age. Amy moved to New York City in 2000 to study theater at New York University. Unfortunately, her acting career didn't quite pan out. She worked in restaurants, as an administrative assistant, a nanny, and a sales representative for a wine distributor before the lack of creativity in her life drove her to begin writing.
Amy received her MFA in Creative Writing for Children from The New School, where she was lucky enough to meet a fabulous community of YA writers who keep her sane on a daily basis. She lives in Harlem, where she spends her days writing, eating cheese, and occasionally binge watching The Vampire Diaries.
Review written by: Jessica Porter
Jessica is the owner and operator of Crossroad Reviews.
OMG I have to say that I am very happy that I didnt have to wait to read this one! I read it in two days and I couldn't wait to finish. But, now I am I'm so sad that I don't have book two :(
This one is in the POV of one girl named Violet and I have to say that I was a little disappointed with her but then she grew a better back bone so it was all good. I really hope that in book two she gets to kick some butt. This one really is a twisted tale. It reminds me of both The Selection by
Kiera Cass
(royalty) and Wither by
Lauren DeStefano.
(Human Trafficking). It will have your blood boiling with some of the things that were going on in their world. It was an interesting take on magic, buying girls, and pregnancy that I've read. Deff. one for the older age groups.
I thought the best thing about the world building was that their city was surrounded by water. I really hope we learn more about that as well. As it wasn't really explained. So although I give this book 5 stars if I was rating the world building alone it would be a 3 because nothing is really explained except the circle that they live in. It would be great to learn about the world at large and why it is surrounded by water.
The characters were great! I loved Raven from the start and really hope that she will be ok and be back in book two. The companion love interest I really liked to and hope that we get more of him in book two as well. The surprise character that I won't mention here for the fact of spoilers was just an OMG moment at the end of the book. It really is one of the BEST MOST SURPRISING CLIFFHANGER of this year!
Go Into This One Knowing
No love triangle in this one but one killer cliffhanger!!
"All opinions are 100% honest and my own."
Sam is just your ordinary fangirl but she's a bankrupt majority of the time because of her love for music and bands, like any other kid on the block, she studies and eats and turns oxygen into carbon dioxide, she's Asian but she's a Filipino who dreams to be recognized for her talent, which she fears getting called stupid for thinking such a not-so-realistic occupation but whatever happens she's bound to remember that she's the hero of her own story.
Went I first heard and saw this book, the cover gave me the impression of The Selection by Kiera Cass but then reviews stated that the book also had the Hunger Games aura so then I finally decided that I should read this book for myself to get to the bottom of this and as I read the book I can say that the book is similar to both books and yet The Jewel gave something new and a little different from what I expected at all.
The book tackles a lot of things, come to think of it, because it talked, about life choices, how one answer and or choice could change, it showed the power of what words truly held and what it really means for survival in this state of living.
The lead in this book, Violet, plays a cello, which made me think that it's really cool, seeing characters play instruments that I obviously can't. I love the fact that Violet really cared for her best friend, Raven in this book because it portrayed the true meaning of friendship to her and how she values it. Violet's character development in the book felt somewhat felt weak yet strong because she was very driven to accomplish many things yet she showed her weaknesses, she's a very stubborn character which leads her to do stupid actions but then she then soon realizes her sins.
"Hope is a precious thing, isn't it," she says. "And yet, we don't really appreciate it until it's gone."
The world of The Jewel portrayed poverty with power and I applaud Ewing for that because there is only specific thing the poor of this world that others can't and this can relate to our world today and I was just stricken with that because it proved that people have voices and they will be heard. This book was written in the way a pristine/posh person would because of the setting. There were moments in some parts of the books where it looked like it could've been written in a way it'd be more dramatic, or it could've been written in a way that it could show more emotion, the book lacked it, because there were moments where I couldn't understand what was she trying to express, and because of that, I didn't get to connect much to Violet as I expected to. All throughout the book, I was entertained, I was curious to know what would happen next because I'm not much of a person where he/she would just make assumptions, predictions and other, I just really wanted to know what would happen next because of the sole purpose of curiosity and the fact that it was purely interesting because I didn't know what to expect on what to happened next, which I really adored while reading this book.
"This is how The Jewel operates. Status is our sole occupation. Gossip is our currency."
I'll be pretty honest, I expected this book to be cute, romantic and fluffy but it's not at all. The book became a turn down for everybody due to the romance in this book and frankly, I am too, it's because it seemed that Violet was just craving him, her love interest and nothing more, the romance was basically fifth grade romance in this book but then come to think of it, Violet was just purely reckless and clueless about love, because the romance is insta-love, which just disappointed me coming from such a good book. But this story has so much more potential to become something different, because you never know what may happen because this is only the beginning of what there is yet to come.
We are all entitled to our opinions and with what I just said, I rate this book as 3 stars and am going to be reading the second book to find out how the story continues.
"All opinions are 100% honest and my own."


Disclaimer: Thanks to Goodreads and Amazon for the book cover, about the book, and author information. If you can not see the link above you will need to turn off your spam blocker. Buying via these above links allows my site to get a % of the sale at no cost to you. This money gets used to buy items for giveaways.
https://www.facebook.com/CrossroadReview