Click below to preorder!!!
Firewalker (The Worldwalker Trilogy)
Ok so the other day the cover to this book two was released and I have to say.
IS IT SEPTEMBER YET!!!!
I devoured book one so fast that it was over before I really started. And now I am drooling to get book two. If you haven't checked out Angelini's books you need to!!!
She is an amazing author with some of the best stories. Right up there with Sarah J. Mass!
The only thing that I'm kinda bummed over is that they switched the cover. I think the org. cover of book one was so much better!!!!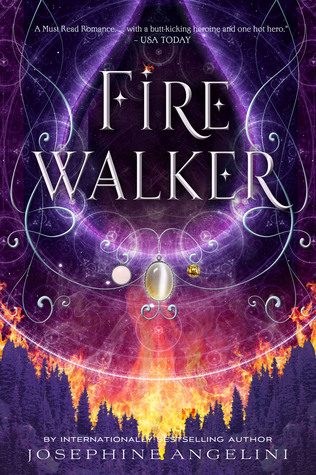 Worlds divide, magic slays, and love lies in the second book of Josephine Angelini's The Worldwalker Trilogy.
"You think I'm a monster, but my choices, as ruthless as they seem, are justified."
Lily is back in her own universe, and she's ready to start a new life with Rowan by her side. True, she almost died in the Pyre that fueled their escape from New Salem, and must hide her magic for the safety of everyone she cares about, but compared to fighting the Woven, the monstrous creatures inhabiting the alternate Salem, life is looking pretty good.
Unfortunately, Lillian, ruthless ruler of the 13 Cities, is not willing to let Lily go that easily. If she can't persuade Lily to return to her world, she will force her to come back by doing away with the ones she loves.
Picking up right where Trial By Fire left off, Firewalker is another sexy, fast-paced, heartbreaking thrill ride from internationally bestselling author Josephine Angelini!
About the Author
Biography

Josie was born in a tiny town in Massachusetts called Ashland. When she meets people from Massachusetts and tells them 'what part' she hails from, she usually gets one of two answers. The first is: "Isn't that in Oregon?" And the second is: "I drove by it once on Rt. 9, I think."

Her next stop was about as different from Ashland as it gets without leaving the country. As soon as Josie was legal, she packed a bag and moved to New York City to attend NYU. Somehow, she managed to squeeze in a little higher learning between bartending shifts and graduated with a BFA.

Massively in debt with college loans, she then moved to Los Angeles for reasons that are still a little blurry. Something about the weather was mentioned, and a vague idea to write poetry and find herself. She found that she is a terrible poet, but she never gave up on the writing bit.

Josie still lives in Los Angeles with her husband and now writes YA fiction.
"All opinions are 100% honest and my own."
Disclaimer: Thanks to Goodreads and Amazon for the book cover, about the book, and author information. If you can not see the link above you will need to turn off your spam blocker. Buying via these above links allows my site to get a % of the sale at no cost to you. This money gets used to buy items for giveaways.
https://www.facebook.com/CrossroadReview