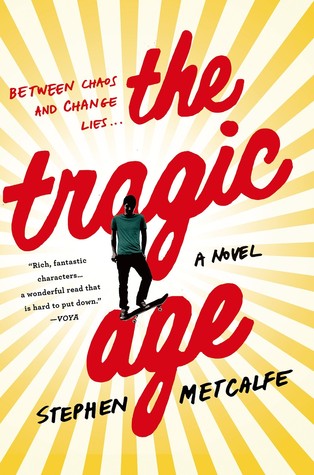 This is the story of Billy Kinsey, heir to a lottery fortune, part genius, part philosopher and social critic, full time insomniac and closeted rock drummer. Billy has decided that the best way to deal with an absurd world is to stay away from it. Do not volunteer. Do not join in. Billy will be the first to tell you it doesn't always work— not when your twin sister, Dorie, has died, not when your unhappy parents are at war with one another, not when frazzled soccer moms in two ton SUVs are more dangerous than atom bombs, and not when your guidance counselor keeps asking why you haven't applied to college.
 
Billy's life changes when two people enter his life. Twom Twomey is a charismatic renegade who believes that truly living means going a little outlaw. Twom and Billy become one another's mutual benefactor and friend. At the same time, Billy is reintroduced to Gretchen Quinn, an old and adored friend of Dorie's. It is Gretchen who suggests to Billy that the world can be transformed by creative acts of the soul. 

With Twom, Billy visits the dark side. And with Gretchen, Billy experiences possibilities.Billy knows that one path is leading him toward disaster and the other toward happiness. The problem is—Billy doesn't trust happiness. It's the age he's at. The tragic age.

Stephen Metcalfe's brilliant, debut coming-of-age novel, The Tragic Age, will teach you to learn to love, trust and truly be alive in an absurd world.
So what to say what to say...................
This one includes a lot of stuff in its 320 pages. From culture to movies to even death, suicide, sexuality, bullying, and more. It covers a large range of issues.
So this one starts us off following around Billy after he is trying to deal with the after math of his sister's death. And not just a sister but a twin sister. There are a ton of side characters in this one that try to influence Billy to go in different directions.
We do end up with a love interest in this one and it is not love at first sight. Gretchen really has to deal with keeping Billy in check and away from the problem Twom. Which turns out to be harder than it should be.
This one is a big mash up of so much stuff going on. From Billy going through the issues of seeing all the adults around him and wondering if that will be him someday to knowing how much money will get you our of any situation.
This one really didnt set well with me. It was slow and fast and pretty much kinda all over the place.
Go Into This One Knowing
Weird, to many issues all playing at once
"All opinions are 100% honest and my own."





a Rafflecopter giveaway
Disclaimer: Thanks to Goodreads and Amazon for the book cover, about the book, and author information. If you can not see the link above you will need to turn off your spam blocker. Buying via these above links allows my site to get a % of the sale at no cost to you. This money gets used to buy items for giveaways.
https://www.facebook.com/CrossroadReview