This is now a combo of #WOW and #TBT I didnt think I needed two memes that were basically the same. Just one did books I couldn't wait to get and the other were older books that I just loved. So this was a way to do two in one! Hope you like it!!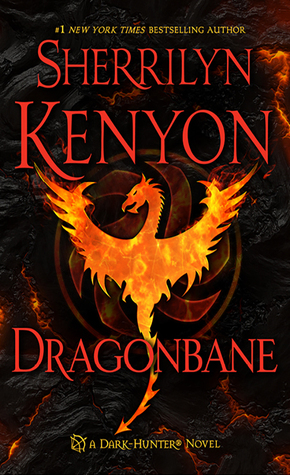 Out of all the mysterious boarders who call Sanctuary home, no one is more antisocial or withdrawn than Maxis Drago. But then, it's hard to blend in with the modern world when you have a fifty foot wingspan.
Centuries ago, he was cursed by an enemy who swore to see him fall. An enemy who took everything from him and left him forever secluded.
But Fate is a bitch, with a wicked sense of humor. And when she throws old enemies together and threatens the wife he thought had died centuries ago, he comes back with a vengeance. Modern day New Orleans has become a battleground for the oldest of evils. And two dragons will hold the line, or go down in flames.
About the Author
Biography
The #1 New York Times bestselling author, Sherrilyn Kenyon, who is proud of her mixed Cherokee heritage, lives a life of extraordinary danger... as does any woman with three sons, a husband, a menagerie of pets and a collection of swords that all of the above have a major fixation with. But when not running interference (or dashing off to the emergency room), she's found chained to her computer where she likes to play with all her imaginary friends. With more than thirty million copies of her books in print, in over one hundred countries, she certainly has a lot of friends to play with too.

Her books appear regularly at the coveted #1 bestselling spot. This extraordinary bestseller continues to top every genre she writes. Her current series include: The Dark-Hunters, The League, Chronicles of Nick and Beladors. Since 2004, she has placed more than 80 novels on the New York Times list in all formats including manga.

Her Lords of Avalon novels have been adapted by Marvel and her Dark-Hunter novels are now a New York Times bestselling manga published by St. Martins, and her Chronicles of Nick series is adapted by Yen Press. Her Dark-Hunters and Chronicles of Nick series are both soon to be major motion picture releases.





Disclaimer: Thanks to Goodreads and Amazon for the book cover, about the book, and author information. If you can not see the link above you will need to turn off your spam blocker. Buying via these above links allows my site to get a % of the sale at no cost to you. This money gets used to buy items for giveaways.
https://www.facebook.com/CrossroadReview