This is now a combo of #WOW and #TBT I didnt think I needed two memes that were basically the same. Just one did books I couldn't wait to get and the other were older books that I just loved. So this was a way to do two in one! Hope you like it!!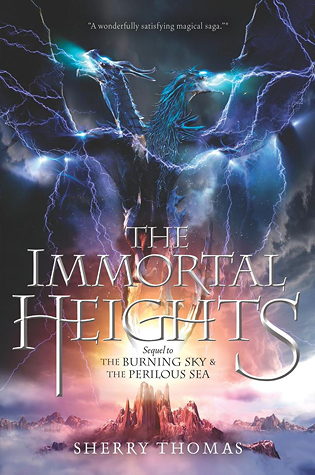 In a pursuit that has spanned continents, Iolanthe, Titus, and their friends have always managed to remain one step ahead of the forces of Atlantis. But now the Bane, the monstrous tyrant who bestrides the entire mage world, has issued his ultimatum: Titus must hand over Iolanthe, or watch as his entire realm is destroyed in a deadly rampage. Running out of time and options, Iolanthe and Titus must act decisively to deliver a final blow to the Bane, ending his reign of terror for good.
However, getting to the Bane means accomplishing the impossible—finding a way to infiltrate his crypt in the deepest recesses of the most ferociously guarded fortress in Atlantis. And everything is only made more difficult when new prophecies come to light, foretelling a doomed effort....
Iolanthe and Titus will put their love and their lives on the line. But will it be enough?
With The Immortal Heights, Sherry Thomas brings the acclaimed Elemental Trilogy to its breathtaking conclusion.
About the Author
Sherry Thomas is the author of
The Burning Sky
and
The Immortal Heights
, the first and third books in the Elemental Trilogy. Sherry immigrated to the United States from China when she was thirteen and taught herself English in part by devouring science fiction and romance novels. She is the author of several acclaimed romance novels and is the recipient of two RITA Awards. Sherry lives with her family in Austin, Texas.





Disclaimer: Thanks to Goodreads and Amazon for the book cover, about the book, and author information. If you can not see the link above you will need to turn off your spam blocker. Buying via these above links allows my site to get a % of the sale at no cost to you. This money gets used to buy items for giveaways.
https://www.facebook.com/CrossroadReview