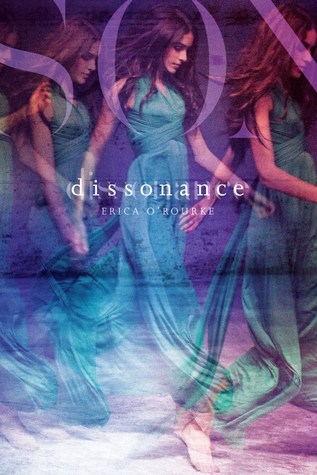 Some decisions have unimaginable consequences.

Every time someone makes a choice, a new parallel world is spun off the existing one. Eating breakfast or skipping it, sneaking out instead of staying in bed—every decision creates an alternate universe in which an Echo self takes the road not travelled. As a Walker who can navigate between these realities, Del is training to help keep the dimensions in harmony.

When Del secretly starts to investigate other dissonant worlds, she get tangled up with an Echo of her longtime crush. She knows she shouldn't keep seeing him. But as Del persists, she uncovers a truth that the Council of Walkers is trying to hide—a secret that threatens the entire multiverse.
About the Author
Erica O'Rourke is the author of
Dissonance
and
Resonance
and of the Torn trilogy, which includes
Torn
,
Tangled
, and
Bound
. She lives near Chicago with her family. Visit her at EricaORourke.com and on Twitter: @Erica_ORourke.
When I started this book I did a bad BAD BAD thing. I read reviews on goodreads. And well the first few were not very nice. As in 2-3 star reviews. After that I almost put it down. But I didnt and I'm really glad that I didnt. Although this book was a little slower than most of the others I read. It was so worth it.
So this book was fab and don't let those bad reviews scare you away. If you love parallel universes then this one is for you!
The characters were great. Del was such a great character she didnt take people crap and she pretty much did what she wanted. Which sometimes turned out to not be such a good idea. The rest of the cast were also great. I would love to have a novella about Simon between this book and the next one. I know there is a novella out (guess I have to go see whats it about hahah)
I really think this could be picked up as a tv series kinda a reboot of the really old show Sliders. It would give a great new perspective on different universes etc.
Go Into This One Knowing
Parallel Universes, Romance, Choices
"All opinions are 100% honest and my own."
a Rafflecopter giveaway
Disclaimer: Thanks to Goodreads and Amazon for the book cover, about the book, and author information. If you can not see the link above you will need to turn off your spam blocker. Buying via these above links allows my site to get a % of the sale at no cost to you. This money gets used to buy items for giveaways.
https://www.facebook.com/CrossroadReview