Welcome to my posting of WOW which is now Wireless on Wednesday! I have so many ebooks that I thought once a week I could read one. And then post a review. So here is this weeks!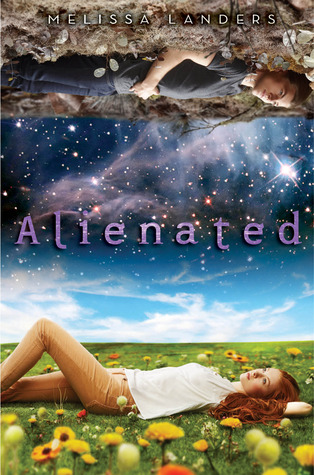 Two years ago, the aliens made contact. Now Cara Sweeney is going to be sharing a bathroom with one of them.
Handpicked to host the first-ever L'eihr exchange student, Cara thinks her future is set. Not only does she get a free ride to her dream college, she'll have inside information about the mysterious L'eihrs that every journalist would kill for. Cara's blog following is about to skyrocket.
Still, Cara isn't sure what to think when she meets Aelyx. Humans and L'eihrs have nearly identical DNA, but cold, infuriatingly brilliant Aelyx couldn't seem more alien. She's certain about one thing, though: no human boy is this good-looking.
But when Cara's classmates get swept up by anti-L'eihr paranoia, Midtown High School suddenly isn't safe anymore. Threatening notes appear in Cara's locker, and a police officer has to escort her and Aelyx to class.
Cara finds support in the last person she expected. She realizes that Aelyx isn't just her only friend; she's fallen hard for him. But Aelyx has been hiding the truth about the purpose of his exchange, and its potentially deadly consequences. Soon Cara will be in for the fight of her life—not just for herself and the boy she loves, but for the future of her planet.
About the Author
Biography
Ok so this one I had had in SIGNED print hardback since it came out hehehe. I got to meet the author that year. So when it came up to choose books for the bookclub it was at the top of my list. So I started out reading it in the HB but then found out that it was on sale in eBook for .99 so I snagged that baby up and devoured this book!!!
So this one was so beyond good. The romance is not instant they kinda hate each other. There is deception, and some back stabbing, and well a really big mystery that we still aren't sure whats going on. I really can't wait to read book two.
The characters and the worlds take center stage in this one. Both MC's were prefect the human girl from out world with strong colors, tastes, and smells. And the Alien boy from the world of greys and muted colors. I really loved how each one contrasted the other it made for a very exciting story.
I also loved how Cara was so determined to find something that Aelyx could eat without killing him hahaha. I mean who can't like pizza?
This one was f
ab! I would really love to have her on the #AuthorChat so help invite her!
Go Into This One Knowing
Aliens, Intrigue, Mystery, Romance
"All opinions are 100% honest and my own."
Disclaimer: Thanks to Goodreads and Amazon for the book cover, about the book, and author information. If you can not see the link above you will need to turn off your spam blocker. Buying via these above links allows my site to get a % of the sale at no cost to you. This money gets used to buy items for giveaways.
https://www.facebook.com/CrossroadReview