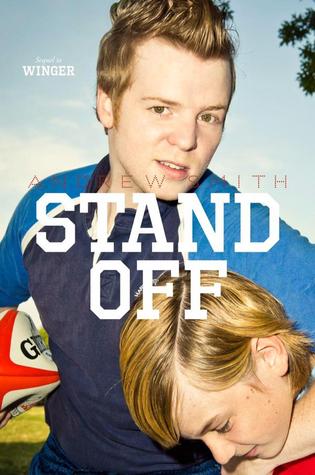 It's his last year at Pine Mountain, and Ryan Dean should be focused on his future, but instead, he's haunted by his past. His rugby coach expects him to fill the roles once played by his lost friend, Joey, as the rugby team's stand-off and new captain. And somehow he's stuck rooming with twelve-year-old freshman Sam Abernathy, a cooking whiz with extreme claustrophobia and a serious crush on Annie Altman—aka Ryan Dean's girlfriend, for now, anyway.
Equally distressing, Ryan Dean's doodles and drawings don't offer the relief they used to. He's convinced N.A.T.E. (the Next Accidental Terrible Experience) is lurking around every corner—and then he runs into Joey's younger brother Nico, who makes Ryan Dean feel paranoid that he's avoiding him. Will Ryan Dean ever regain his sanity?
From the author of the National Book Award–nominated 100 Sideways Miles, which Kirkus Reviews called "a wickedly witty and offbeat novel," Stand-Off is filled with hand-drawn infographics and illustrations and delivers the same spot-on teen voice and relatable narrative that legions of readers connected with in Winger.
About the Author
Andrew Smith is the author of several award-winning novels for young adults. He lives in a very remote area in the mountains of Southern California with his family, two horses, two dogs and three cats. He doesn't watch television and occupies himself by writing, bumping into things outdoors, and taking ten-mile runs on snowy trails. He maintains a blog and website about his strange writing life at GhostMedicine.Blogspot.com.
I went into this book with two feelings. One that I might love it. The other, that I would hate it. It's a toss up because I had such high expectations and fears, because I wanted to love it and I didn't want to hate it. My feelings as I closed the final chapter, remain. It's one of those books that holds you but also kinda crushes you. It was very well written and for those who read book one will know that as to be expected there are a lot of feels that are a rollercoaster to your mind.
Did I love this book? I loved to hate it. I loved most of it, but in the end, it didn't totally take me as it should have, because as I said, the expectations where high. Sometimes, sequels and high anticipated ones, like this--form unrealistic hope in our minds and then when we get the book in our hands, its a mixer. I will say that I enjoyed the first book more then the second. Would I recommend it. Of course--just because it wasn't my cup of tea, doesn't mean it won't be yours. But I'm curious to see, if others also felt a bit as if this book was lacking the pull that the first book had.
"All opinions are 100% honest and my own."
a Rafflecopter giveaway
Disclaimer: Thanks to Goodreads and Amazon for the book cover, about the book, and author information. If you can not see the link above you will need to turn off your spam blocker. Buying via these above links allows my site to get a % of the sale at no cost to you. This money gets used to buy items for giveaways.
https://www.facebook.com/CrossroadReview