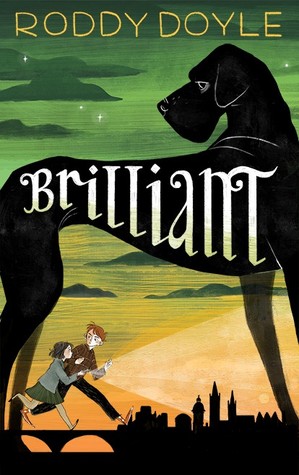 The Black Dog of Depression has descended over the adults of Dublin. Uncles are losing their businesses, dads won't get out of bed, mothers no longer smile at their children. Siblings Raymond and Gloria have had enough and set out one night with one goal in mind: to stop the Black Dog, whatever it takes. In a chase through the streets and parks and beaches of Dublin, the children run after the Black Dog, and soon dozens, then hundreds, then thousands of kids join in their fight. They discover they have one weapon against the Black Dog. The weapon is a word: "brilliant."
Illustrated throughout by a bright new talent and told through the masterful dialogue for which the acclaimed Roddy Doyle is known, Brilliant is a very special book with a storybook feel.
About the Author
Bestselling author Roddy Doyle is acclaimed across the world. He was born in Dublin in 1958 and still lives there today. Much of his work, including Brilliant, is set in the city and is about the unexpected, and often challenging, lives of ordinary Irish people - but it appeals to readers all over the world. Roddy Doyle has won many prizes for his writing. These include the Booker Prize (for which he has also been shortlisted), and a BAFTA for Best Screenplay. He has also won the Irish Children's Book of the Year and was shortlisted for the prestigious 2013 CILIP Carnegie Medal. His novel The Commitments was turned into a blockbuster film directed by Alan Parker and opened as a musical in Dublin and in London in 2013, directed by Jamie Lloyd. His latest adult novel, The Guts, a sequel to his renowned Barrytown trilogy, was published to critical acclaim in summer 2013. Brilliant is his seventh children's book.
Geared towards middle schoolers, the book is to help touch base with children and give them a better understanding of depression and what it means in their lives. I didn't connect with this book at all. It hardly lived up to it's expectations. Though told with humor on the subject, I didn't find it enduring or truly captivating. I don't feel that the subject approach of depression was handled in a way that truly children will understand and be careful to pay attention to. Mostly, I felt overwhelmed for kids reading this book, because they may walk away from this book, feeling that depression is nothing but a black dog that they can chase away.
Go Into This One Knowing
This book deals with a sensitive and touching topic of depression.
"All opinions are 100% honest and my own."
Disclaimer: Thanks to Goodreads and Amazon for the book cover, about the book, and author information. If you can not see the link above you will need to turn off your spam blocker. Buying via these above links allows my site to get a % of the sale at no cost to you. This money gets used to buy items for giveaways.
https://www.facebook.com/CrossroadReview