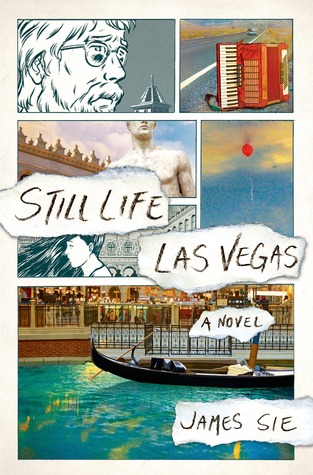 An astonishing literary debut about a young man who, in the search for clues into the disappearance of his mother twelve years earlier, discovers himself in the process.
Recent high school graduate and aspiring artist Walter Stahl lives with his ailing father in the dregs of Las Vegas, their lives overshadowed by the disappearance of Walter's mother, who drove off when he was five and never returned. Although Walter has never so much as seen a photograph of his mother, it doesn't stop him from keeping an eye out for her in the groups of tourists he caters to in his dead-end job along the Strip.
Then Walter meets Chrysto and Acacia, a brother and sister working as living statues at the Venetian Hotel, and his world cracks open. Spending less time caring for his father, and more time riding on the backs of Vespas and drawing, Walter finds life has more to offer than he could have imagined. But as his feelings for Chrysto deepen, and as clues behind his mother's disappearance start to reveal themselves, Walter is forced to face the truth about himself and his family history.
Threading through this coming-of-age story are beautiful and heart-wrenching graphic illustrations, depicting how Walter's mother Emily, a Vietnamese-born accordion player, abandoned her family to chase a vision of Liberace across the country; and how Walter's father went searching for her amongst the gondolas of the Venetian Hotel.
In Still Life Las Vegas, the magical collides with the mundane; memory, sexual awakening and familial ties all lead to a place where everything is illuminated, and nothing is real.
About the Author
JAMES SIE was born and raised in Summit, NJ., the son of immigrant parents, a Chinese father and an Italian mother. After attending Northwestern University, he lived in Chicago for many years, working as an actor and an award-winning playwright of literary adaptations. Currently, he lives in Los Angeles with his husband and son, where he works as a voiceover artist in animation, most notably in Kung Fu Panda: Legends of Awesomeness; King of the Hill and Jackie Chan Adventures. Still Life Las Vegas is his debut novel, featuring graphic illustrations by Sungyoon Choi.
Sungyoon Choi is an illustrator and a comic book artist living in Los Angeles, CA. She studied Illustration as Visual Essay at School of Visual Arts MFA program. She illustrated the graphic novel American Widow published by Villard in 2008 and Mission in a Bottle published by Crown Business.
Dark, depressing and just plain didn't have it for me. I hardly felt a connection to the story, let alone the main character, Walter. The book was dry and I couldn't finish it all the way through. Nothing upsets me more then when I have to admit book defeat and walk away...and this one had me running.
"All opinions are 100% honest and my own."
Disclaimer: Thanks to Goodreads and Amazon for the book cover, about the book, and author information. If you can not see the link above you will need to turn off your spam blocker. Buying via these above links allows my site to get a % of the sale at no cost to you. This money gets used to buy items for giveaways.
https://www.facebook.com/CrossroadReview