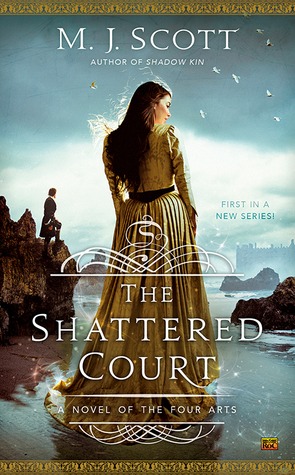 First in a new fantasy series from the author of the Novels of the Half-Light City.
Entangled in a court ruled by tradition and intrigue, a young witch must come to terms with newfound power and desire—and a choice between loyalty and survival.…
The royal witches of Anglion have bowed to tradition for centuries. If a woman of royal blood manifests powers, she is immediately bound by rites of marriage. She will serve her lord by practicing the tamer magics of the earth—ensuring good harvests and predicting the weather. Any magic more dangerous is forbidden.
Lady Sophia Kendall, thirty-second in line to the throne, is only days away from finding out if she will be blessed—or perhaps cursed—with magic. When a vicious attack by Anglion's ancient enemies leaves the kingdom in chaos, Sophia is forced to flee the court. Her protector by happenstance is Lieutenant Cameron Mackenzie, a member of the royal guard, raised all his life to be fiercely loyal to the Crown.
Then Sophia's powers manifest stronger than she ever imagined they would, and Cameron and she are inextricably linked in the process. As a witch unbound by marriage rites, Sophia is not only a threat to the established order of her country, but is also a weapon for those who seek to destroy it. Faced with old secrets and new truths, she must decide if she will fight for her country or succumb to the delicious temptation of power.…
About the Author
M. J. Scott
is an unrepentant bookworm. Luckily she grew up in a family that fed her a properly varied diet of books and these days is surrounded by people who are understanding of her story addiction. When not wrestling one of her own stories to the ground, she can generally be found reading someone else's. Her other distractions include yarn, cat butlering, dark chocolate and fabric. She is the author of the Half-Light City novels:
Shadow Kin, Blood Kin
, and
Iron Kin,
and Fire Kin.She lives in Melbourne, Australia.
Ok so what can I say about The Shattered Court? I didnt know I was going to love it so much! I love me a great story about witches. And well I've been trying to branch back out into the world of NA and Adult titles as I needed a short break from all the kids, middle school, and teen books I've been reading lately. This one was amazing! I loved all the new concepts on magic and how their society works. This isn't classified as a romance but it does have one. And I have to say that it was done very tastefully and well. So its there but it doesn't take center stage. This one is all plot and characters. I loved Sophia to start out with. She was a pretty determined character. But, after she came into her powers she was unstoppable. I can't wait for book two to see what else her powers have in store for us.
The author did a wonderful job with world building as its done in a way where you won't be confused. But you get a lot of much needed information. And as easy as this is laid out I could see it turning into a wonderful show for tv like Outlander or Game of Thrones. It was just that good.
This is another one that I can't say to much about because it will give the story away. So if you love witches, a little romance, a lot of mystery/story then this is deff the read for you.
Go Into This One Knowing
Cliffhanger, EEEP!!!! DEMONS, PORTALS, and ROMANCE O MY!
"All opinions are 100% honest and my own."
Don't forget to join us Sept. 5th at 5pm ET to chat it up with the author of this wonderful book!
You can ask questions and get some great interaction!





a Rafflecopter giveaway
Disclaimer: Thanks to Goodreads and Amazon for the book cover, about the book, and author information. If you can not see the link above you will need to turn off your spam blocker. Buying via these above links allows my site to get a % of the sale at no cost to you. This money gets used to buy items for giveaways.
https://www.facebook.com/CrossroadReview