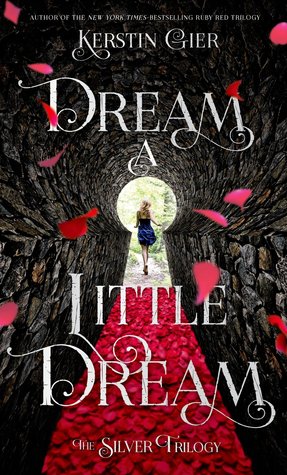 Mysterious doors with lizard-head knobs. Talking stone statues. A crazy girl with a hatchet. Yes, Liv's dreams have been pretty weird lately. Especially the one where she's in a graveyard at night, watching four boys conduct dark magic rituals.
The strangest part is that Liv recognizes the boys in her dream. They're classmates from her new school in London, the school where she's starting over because her mom has moved them to a new country (again). But what's really scaring Liv is that the dream boys seem to know things about her in real life, things they couldn't possibly know--unless they actually
are
in her dreams? Luckily, Liv never could resist a good mystery, and all four of those boys are pretty cute....
Kerstin Gier
is the
New York Times
–bestselling author of the Ruby Red trilogy, which has been translated into twenty-five languages.
I kept seeing this book in the bookstore and just wasn't sure if I wanted to read it or not. But when I had a coupon via Book outlet I decided that I should take the plunge and get it and well I wasn't disappointed!
Although the translation is a little better than her other series. It still has its issues. Such as the girl is supposed to be in either 10th or 11th grade but it keeps jumping all over. I know she is only 15 so maybe she is only a freshman. But, I remember in places it says she is in middle school then it jumps. So I'm not sure if its just a UK thing and it just was updated for the US. Or if it was a mess up and it just wasn't caught. There are a few other issues like this in this book where the word usage is wrong etc. If someone knows the answer please let me know.
Other than that the book and story was awesome! Its fill of laugh out loud moments and I loved the banter between the two sisters. I was laughing my butt off for most of the book. Liv and her sister (sorry totally forgot her name) are some of most funny characters ive read in a while.
The story in this one was perfect! Great flow and I understood all of it without being lost. You don't need a background in the metaphysics or demonology or even dreams to understand whats going on. You will be able to follow along with the characters with no issue.
The way that the dreams were done was so elegant and worked so well. I really can't wait to see where book two is going to take us. Now that the ending in this one is full and complete I really want to know what is going to happen next.
Go Into This One Knowing
Demons, Dreams, and Danger O My!
"All opinions are 100% honest and my own."
Disclaimer: Thanks to Goodreads and Amazon for the book cover, about the book, and author information. If you can not see the link above you will need to turn off your spam blocker. Buying via these above links allows my site to get a % of the sale at no cost to you. This money gets used to buy items for giveaways.
https://www.facebook.com/CrossroadReview