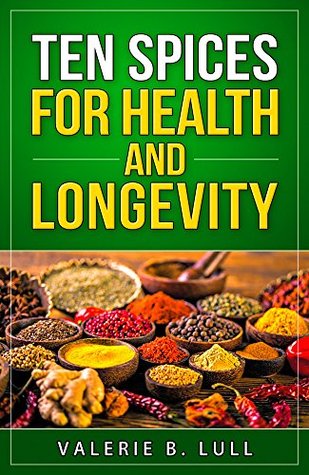 Forget drugs and artificial chemicals. For thousands of years, people have been harnessing the natural power of spices to restore their minds and bodies. With a new guide, Ten Spices for Health and Longevity, you can too.
In straightforward, easy to understand language, Ten Spices for Health and Longevity translates the latest science into healthful tips anyone can use. Concentrating on the 10 most essential spices in our medical and culinary history, you'll discover how these pantry staples can reduce inflammation, soothe digestive disorders, relieve arthritis, improve mood and memory, and even rejuvenate skin.
For each of the 10 key spices, you'll learn:
● The spice's many medical and therapeutic benefits
● Side effects to watch out for
● Easy recipes for making the most of both flavor and health, including Potatoes with Rosemary, Rice with Lemon Thyme, Meatball Oregano Soup, and Pumpkin Cookies with Clove, Cinnamon, and Nutmeg
● Additional uses for spices in everything from baths to mouthwashes to insect repellant
And more!
You can have your health and eat well too. Grab Ten Spices for Health and Longevity today, and start healing your body--the right way!
Valerie Lull, decided to embark on a new career at the age of 58. She had been feeling run down, stressed out and generally "blah". She started experimenting with herbal teas and found that they were a simple way to get healthy and feel better. Her goal is to help people find simple ways to enhance their health. Valerie has a passion for good health and a passion for teas, and natural ways to enhance health. This led her to study herbalism and become more familiar with all the wonderful things tea can do for one's health and well-being. Her first book "Ten Healthy Teas" is an exploration of ten teas in a simple, easy-to-read format. It is meant to be a simple and easy primer, designed for people who want to know more about tea and how it can be used to improve health. Her second book "Ten Spices for Health and Longevity" explores the world of spices and their health benefits.
It was an interesting read through. I learned a few tricks and things I didn't know about spices...however, it wasn't a book for me. Not one I would reference again in the future. I'm more of a modern medicine kinda girl...
Go Into This One Knowing
Health
"All opinions are 100% honest and my own."
Disclaimer: Thanks to Goodreads and Amazon for the book cover, about the book, and author information. If you can not see the link above you will need to turn off your spam blocker. Buying via these above links allows my site to get a % of the sale at no cost to you. This money gets used to buy items for giveaways.
https://www.facebook.com/CrossroadReview