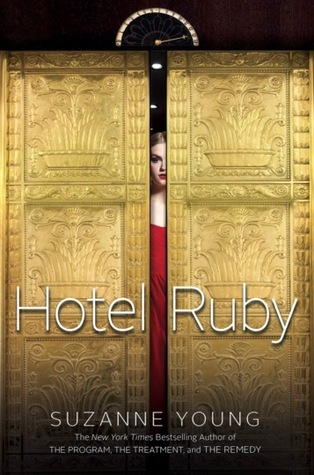 Stay Tonight. Stay Forever.

When Audrey Casella arrives for an unplanned stay at the grand Hotel Ruby, she's grateful for the detour. Just months after their mother's death, Audrey and her brother, Daniel, are on their way to live with their grandmother, dumped on the doorstep of a DNA-matched stranger because their father is drowning in his grief.

Audrey and her family only plan to stay the night, but life in the Ruby can be intoxicating, extending their stay as it provides endless distractions—including handsome guest Elias Lange, who sends Audrey's pulse racing. However, the hotel proves to be as strange as it is beautiful. Nightly fancy affairs in the ballroom are invitation only, and Audrey seems to be the one guest who doesn't have an invite. Instead, she joins the hotel staff on the rooftop, catching whispers about the hotel's dark past.

The more Audrey learns about the new people she's met, the more her curiosity grows. She's torn in different directions—the pull of her past with its overwhelming loss, the promise of a future that holds little joy, and an in-between life in a place that is so much more than it seems…

Welcome to the Ruby.
Suzanne Young is the
New York Times
bestselling author of The Program series. Originally from Utica, New York, Suzanne moved to Arizona to pursue her dream of not freezing to death. She is a novelist and an English teacher, but not always in that order. Suzanne is the author of
The Program
,
The Treatment
,
The Remedy
,
The Epidemic
,
A Need So Beautiful
, and
Hotel Ruby
. You can visit her online at Suzanne-Young.Blogspot.com.
This was one creepy thriller with twists and turns around every hotel corner. It really reminded me of the twilight zone (tower of terror) and that movie 1408. Haunting have been popping up everywhere in our day and age and this one will knock your socks off!
The only thing I didnt like was the ending. But it worked for this book. The MC got what she wanted and that is what counts. This one starts out with our MC

Audrey Casella driving with her older brother and her dad. After the death of her mom her dad can't stand to look at them. So he is taking them to their grams. Well on the way they take a detour at this hotel and that is where the story really gets going.
With a haunting mystery story and the newest book boyfriend this one should not be missed.
Elias
Swoon!
Go Into This One Knowing
no cliffhanger, teens dealing with death
"All opinions are 100% honest and my own."
a Rafflecopter giveaway
Disclaimer: Thanks to Goodreads and Amazon for the book cover, about the book, and author information. If you can not see the link above you will need to turn off your spam blocker. Buying via these above links allows my site to get a % of the sale at no cost to you. This money gets used to buy items for giveaways.
https://www.facebook.com/CrossroadReview