Hey guys welcome to this months pick Walk On Earth A Stranger by Rae Carson!
I have to say that I am VERY happy that I gave this wonder story a chance. Thanks to Rachael for that one! (Waves) Because I am very happy that we got to travel along with Lee and her friends! So check out the review below and see what is coming for Jan's pick in our post tomorrow!
Want to join us? Were totally online
https://www.facebook.com/groups/NYNBC/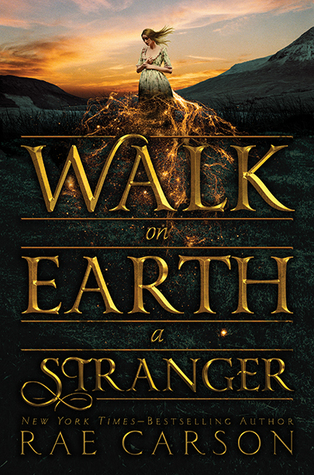 Gold is in my blood, in my breath, even in the flecks in my eyes.
Lee Westfall has a strong, loving family. She has a home she loves and a loyal steed. She has a best friend—who might want to be something more.
She also has a secret.
Lee can sense gold in the world around her. Veins deep in the earth. Small nuggets in a stream. Even gold dust caught underneath a fingernail. She has kept her family safe and able to buy provisions, even through the harshest winters. But what would someone do to control a girl with that kind of power? A person might murder for it.
When everything Lee holds dear is ripped away, she flees west to California—where gold has just been discovered. Perhaps this will be the one place a magical girl can be herself. If she survives the journey.
The acclaimed Rae Carson begins a sweeping new trilogy set in Gold Rush-era America, about a young woman with a powerful and dangerous gift.
Rae Carson is the author of the
New York Times
–bestselling Girl of Fire and Thorns series. Her books tend to contain lots of adventure, magic, and smart girls who make (mostly) smart choices. Originally from California, Rae Carson now lives in Arizona with her husband.
So first off I have to say that I really wasn't sure about this book. I just seen that the local BAM had signed copies and ended up getting it. I hadn't even read the inside cover to see what it was about! The cover was gorgeous and well in the past few months pretty covers have held a crap story! So when this one ended up being amazing I was happily surprised!
This one follows our heroine Lee as she journeys to California escaping her Uncle whom she believes killed her parents. Now in this book there are some things you must know.
1. Lee can sense gold! No matter how small she knows where to find it!
2. READ the author's note! I kinda wish I would have read it first! As one part of it gives the definition of a term used in the book that when I read it I didnt know what it meant. So it was kind of weird finding out at the end of the book. It doesnt make much difference but well it would have just been nice to know.
3. Think of this as Mulan for the Gold Rush era. Although where Disney's version of Mulan goes to save China our poor Lee is just trying to get away from the man that killed her family. I really hope in book two he gets whats coming for him!
This takes us to point #4.
This is a series and although this book was great showing us the trials that Lee has to go through to find not only herself but more. It also sets this series up in full! With over 400 pages of yummies it will feel like you were there right beside her on her long 6 month journey.
5. This is a slower book it has its fast parts but for the most part its like a nice clean burn! It will take you though all of the story in a way that you won't get lost and well you will love every second of it!
6. Lee is a great female lead in this story and by far one of my fav. characters to date!! She doesn't take anyone crap in a time where woman were the property of their husbands etc. And they couldn't own land etc. So it was nice to see a female lead that was a head of her time!
7. Have tissues! Know I will say there were some sad parts of this book. And although for once I didnt cry my eyes out. I could be wrong about some others! So you have been warned PEOPLE/ANIMALS DIE in this story!!!
So in other things there is no insta-love, there is some murder of course and some death. There are def. some A**Hats along the way to. But don't worry you will love ever second of this one! Its a must read for anyone who love a great blend of historical and fantasy/magic! I really can't wait for the next one!
Go Into This One Knowing
No Instalove, no cliffhanger, Death, Murder, little romance, Family
"All opinions are 100% honest and my own."
Disclaimer: Thanks to Goodreads and Amazon for the book cover, about the book, and author information. If you can not see the link above you will need to turn off your spam blocker. Buying via these above links allows my site to get a % of the sale at no cost to you. This money gets used to buy items for giveaways.
https://www.facebook.com/CrossroadReview