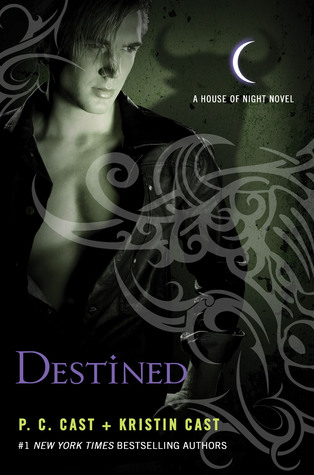 In Destined, the forces of Light and Dark collide as their epic struggle focuses on Tulsa's House of Night. Zoey is home where she belongs, safe with her Guardian Warrior, Stark, by her side – and preparing to face off against Neferet. Kalona has released his hold on Rephaim, and, through Nyx's gift of a human form, he and Stevie Rae are finally able to be together – if Rephaim can truly walk the path of the Goddess and stay free of his father's shadow.
But is Zoey really safe? Does she truly know those who are closest to her? And will love win when it is tested by the very soul of Darkness?
Kristin Cast is a #1 NY Times and #1 USA Today bestselling author who teamed with her mother to write the wildly successful House of Night series. She has editorial credits, a thriving t-shirt line, and a passion for all things paranormal. When away from her writing desk, Kristin loves going on adventures with her friends, family, and significant other, playing with her French Bulldogs, and discovering new hobbies. This year she'll work on swimming, yoga, and adding to her Doctor Who collection.
P.C. Cast was born in Watseka, Illinois, and grew up being shuttled back-and-forth between Illinois and Oklahoma, which is where she fell in love with Quarter Horses and mythology (at about the same time). After high school she joined the United States Air Force and began public speaking and writing. Since her tour in the USAF, she has been speaking and teaching professionally.
This is how this book left me. And now I'm starting the next one! I don't know if I have the heart to read the novellas. I mean I know these books show us that although some people die they are welcomed within the arms of the goddess but still I mean they died. Its sad! and yes I understand that this is just a book. But its a series with a great message! Esp. this one. This book's story ripped out my heart and stomped on it! Then when you thought that was the end you get slapped in the face with something you never saw coming!
So ya this one so far is beyond my FAV! and the last one I have actually read in the past. So finally onto something I havent read while I finish up the last three books in this wonder story!
"All opinions are 100% honest and my own."
Disclaimer: Thanks to Goodreads and Amazon for the book cover, about the book, and author information. If you can not see the link above you will need to turn off your spam blocker. Buying via these above links allows my site to get a % of the sale at no cost to you. This money gets used to buy items for giveaways.
https://www.facebook.com/CrossroadReview