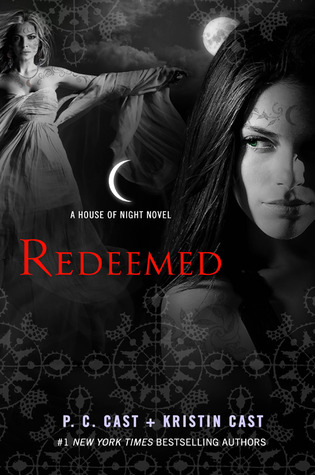 In the final electrifying novel in the HoN series, Neferet has finally made herself known to mortals. A Dark Goddess is loose on Tulsa and the world. No single vampyre is strong enough to vanquish her - unless that creature has the power to summon the elements
as well as
the ability to wield Old Magick. Only Zoey Redbird is heir to such power…but because of the consequences of using Old Magick, she is unable to help. Find out who will win and who will lose in this epic battle of Light versus Darkness.
Kristin Cast is a #1 NY Times and #1 USA Today bestselling author who teamed with her mother to write the wildly successful House of Night series. She has editorial credits, a thriving t-shirt line, and a passion for all things paranormal. When away from her writing desk, Kristin loves going on adventures with her friends, family, and significant other, playing with her French Bulldogs, and discovering new hobbies. This year she'll work on swimming, yoga, and adding to her Doctor Who collection.
P.C. Cast was born in Watseka, Illinois, and grew up being shuttled back-and-forth between Illinois and Oklahoma, which is where she fell in love with Quarter Horses and mythology (at about the same time). After high school she joined the United States Air Force and began public speaking and writing. Since her tour in the USAF, she has been speaking and teaching professionally.
Well I can say without a doubt this was the fav of the series now that its over. I just deleted the novellas off our calendar because I just can't make myself want to read them after all the emotions that I just went through this this series ending. I will have to come back to them later.
This one we see the end of this battle with evil and of course know that there will always be love.
This one really does see many people finding redemption and it was awesome! I cried a lot during this book! I do with that the authors would have taken the ending one step further and put us like 100 years or so into the future so we could see how Zoey's new council was going. I would have loved to see how everyone was doing after so many years. But my one last question that wasn't answered was all about Aphrodite. What about her? We all know she was more than human because of what she did. But does that mean she she will have a more than human life span? Or is her Warrior doomed to loose her after 80 some odd years? This is the only question I still had at the ending of this wonderful series.
I have tweeted to the authors so hopefully we find out. If I get an answer ill be sure to share it here!
Other than I am now in a pool of book doom. I always get depressed with the ending of a beloved series. But I have so many more books to read. That I just have to keep going.
PS: I know that this is prob a pipe dream but it would be awesome to have a short little story about what everyone is up to set in that future. Its hard to let go of beloved characters once you have been with them for so long.
"All opinions are 100% honest and my own."
Disclaimer: Thanks to Goodreads and Amazon for the book cover, about the book, and author information. If you can not see the link above you will need to turn off your spam blocker. Buying via these above links allows my site to get a % of the sale at no cost to you. This money gets used to buy items for giveaways.
https://www.facebook.com/CrossroadReview