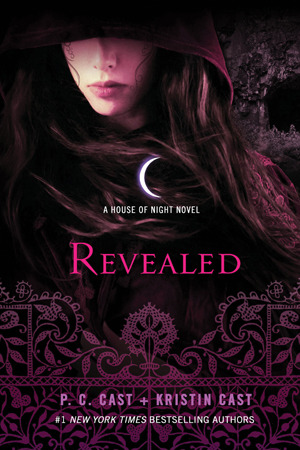 The spellbinding eleventh and penultimate installment in the #1 New York Times bestselling vampyre series
Drastically altered after her fall at the end of Hidden, Neferet is now more dangerous than ever—and her quest for vengeance will wreak havoc on humans, as well as Zoey and her friends. Chaos is loosed in Tulsa and the House of Night is blamed. Can Zoey stop Neferet in time to keep her anger from escalating to full-on war? Or will someone else have to step in to take the fall?
The House of Night series is an international phenomenon, reaching #1 on U.S., German, and UK bestseller lists, and remaining a fixture on The New York Times Children's Series bestseller list for nearly 150 weeks and counting. With more than 12 million copies in print, rights sold in thirty–eight countries to date, and relatable, addictive characters, this series is unstoppable. Now, in the eleventh and penultimate installment of the series, the action is more intense and the stakes even higher as Zoey and her friends battle to protect their school and home from devastating evil—all while balancing romances, precarious friendships and the daily drama of the House of Night's halls.
Kristin Cast is a #1 NY Times and #1 USA Today bestselling author who teamed with her mother to write the wildly successful House of Night series. She has editorial credits, a thriving t-shirt line, and a passion for all things paranormal. When away from her writing desk, Kristin loves going on adventures with her friends, family, and significant other, playing with her French Bulldogs, and discovering new hobbies. This year she'll work on swimming, yoga, and adding to her Doctor Who collection.
P.C. Cast was born in Watseka, Illinois, and grew up being shuttled back-and-forth between Illinois and Oklahoma, which is where she fell in love with Quarter Horses and mythology (at about the same time). After high school she joined the United States Air Force and began public speaking and writing. Since her tour in the USAF, she has been speaking and teaching professionally.
Ok so the start of this one had me pretty much snoozing. I wasn't all that invested in it. So I was pretty much like this
Pretty much meh whatever
THEN that whole Dallas thing happened and I was like!!!!
Well then the ending happened and that just killed me all the way around!
I really do think that the authors were smoking something or well SOMETHING because this book was full of some weird ass shit! (sorry for the swearing but well it WAS!)
This book was like a small blend of 50 shades (just one little part), murder mystery, fantasy, with old magic and well just some plain CRAZY SHIT GOING ON!!!! The end of this one has me really wondering what in the world is going to be going on with the last book in this series and well its really making me sad that its almost over.
"All opinions are 100% honest and my own."
Disclaimer: Thanks to Goodreads and Amazon for the book cover, about the book, and author information. If you can not see the link above you will need to turn off your spam blocker. Buying via these above links allows my site to get a % of the sale at no cost to you. This money gets used to buy items for giveaways.
https://www.facebook.com/CrossroadReview