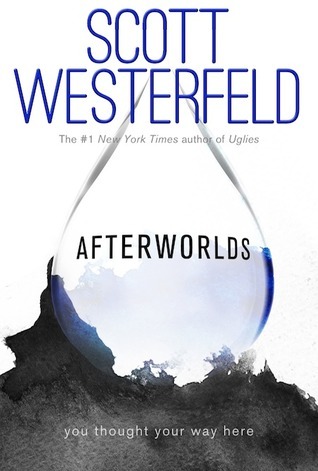 Darcy Patel has put college and everything else on hold to publish her teen novel, Afterworlds. Arriving in New York with no apartment or friends she wonders whether she's made the right decision until she falls in with a crowd of other seasoned and fledgling writers who take her under their wings…

Told in alternating chapters is Darcy's novel, a suspenseful thriller about Lizzie, a teen who slips into the 'Afterworld' to survive a terrorist attack. But the Afterworld is a place between the living and the dead and as Lizzie drifts between our world and that of the Afterworld, she discovers that many unsolved - and terrifying - stories need to be reconciled. And when a new threat resurfaces, Lizzie learns her special gifts may not be enough to protect those she loves and cares about most.
About the Author
Scott Westerfeld is the author of the Leviathan series, the first book of which was the winner of the 2010 Locus Award for Best Young Adult Fiction. His other novels include the
New York Times
bestseller
Afterworlds
, the worldwide bestselling
Uglies series,
The Last Days
,
Peeps
,
So Yesterday
, and the Midnighters trilogy. Visit him at ScottWesterfeld.com or follow him on Twitter at @ScottWesterfeld.
So this one is officially getting two stars. Im so sorry but I tried. I really tried to love this. This one is split up via two stories. The first one is about this 18 year old getting published. The second story within this one is about the story that the 18 year old wrote. It is paranormal and awesome!
I really wish that they would have published Afterworlds on its own. Then did the story about Darcy getting published as a novella. It would have been just the right length to get you interested about Afterworlds but, not enough to drive you nuts.
I attemped to just skip the parts about Darcy. But shortly in I found myself just being pissed off because I had to do this. The book of Afterworlds would have stood just fine on its own. It was great. But this as a whole was just sucktastic.
Flipping back and forth from a paranormal book to one set in reality really took away a lot of the pacing as well as ripping me out of the world of fantasy.
So this one is a 2 star for me. Now if it gets re released and is split I will most def. try it again.
Go Into This One Knowing
2 Stories in one just doesnt work out.
Update: They could also just release the book as two books but no alternating stories.
"All opinions are 100% honest and my own."
Disclaimer: Thanks to Goodreads and Amazon for the book cover, about the book, and author information. If you can not see the link above you will need to turn off your spam blocker. Buying via these above links allows my site to get a % of the sale at no cost to you. This money gets used to buy items for giveaways.
https://www.facebook.com/CrossroadReview