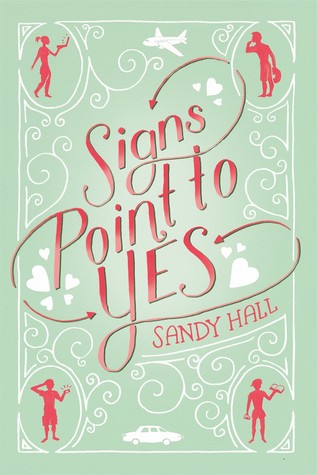 The author of A Little Something Different brings you the most adorkable romance ever.
Jane, a superstitious fangirl, takes an anonymous babysitting job to avoid an unpaid internship with her college-obsessed mom. The only problem? She's babysitting the siblings of her childhood friend and new crush, Teo.
Teo doesn't dislike Jane, but his best friend Ravi hates her, and is determined to keep them apart. So Teo's pretty sure his plans for a peaceful summer are shot. His only hope is that his intermittent search for his birth father will finally pan out and he'll find a new, less awkward home. Meanwhile, at Jane's house, her sister Margo wants to come out as bisexual, but she's terrified of how her parents will react.
In a summer filled with secrets and questions, even Jane's Magic 8 ball can't give them clear answers, but Signs Point to Yes.
Sandy Hall
is a teen librarian from New Jersey where she was born and raised. She has a BA in Communication and a Master of Library and Information Science from Rutgers University. When she isn't writing, or teen librarian-ing, she enjoys reading, marathoning TV shows, and long scrolls through Tumblr.
This was enjoyable! It was funny, fluffy and adorable. I liked the characters and their relationships to each other but something was odd about the writing, It felt a little weird to me. The romance was nicely place, so no insta-love! Thankfully. This book was cute contemporary read and if you're into that, read it!
"All opinions are 100% honest and my own."
Disclaimer: Thanks to Goodreads and Amazon for the book cover, about the book, and author information. If you can not see the link above you will need to turn off your spam blocker. Buying via these above links allows my site to get a % of the sale at no cost to you. This money gets used to buy items for giveaways.
https://www.facebook.com/CrossroadReview