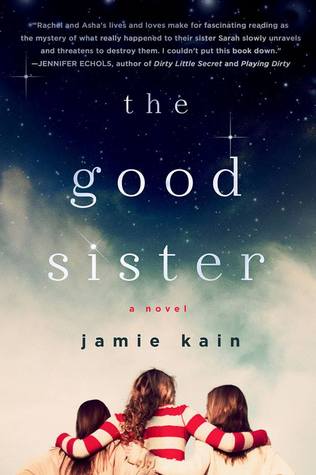 The Kinsey sisters live in an unconventional world. Their parents are former flower-children who still don't believe in rules. Their small, Northern California town is filled with free spirits and damaged souls seeking refuge from the real world. Without the anchor of authority, the three girls are adrift and have only each other to rely on.

Rachel is wild. Asha is lost. Sarah, the good sister, is the glue that holds them together. But the forces of a mysterious fate have taken Sarah's life in a sudden and puzzling accident, sending her already fractured family into a tailspin of grief and confusion. Asha has questions. Rachel has secrets. And Sarah, waking up in the afterlife, must piece together how she got there.
This one deals with the loss of the glue that kept three sisters together. And although it was slow to start the plot took off in a very inventive way. We get three POVs about how life is after their sister's death. Two from Earth and one from the after life. I wasn't sure how this was going to work out for me coming off my very depressing binge read of the House of Night books but it worked out well.
The two sisters among finding themselves go on a journey about Sarah how she lived and how she died. I have to say that even though this was a YA title/story I could see many adult picking it up.
Fans of If I Stay etc will dive into this one loving every minute of it. It was a very good mystery where we find out what really happened. The ending shocked me with tears and happiness.
Go Into This One Knowing
Death, Afterlife, Loss, Love, Life
"All opinions are 100% honest and my own."
a Rafflecopter giveaway
Disclaimer: Thanks to Goodreads and Amazon for the book cover, about the book, and author information. If you can not see the link above you will need to turn off your spam blocker. Buying via these above links allows my site to get a % of the sale at no cost to you. This money gets used to buy items for giveaways.
https://www.facebook.com/CrossroadReview