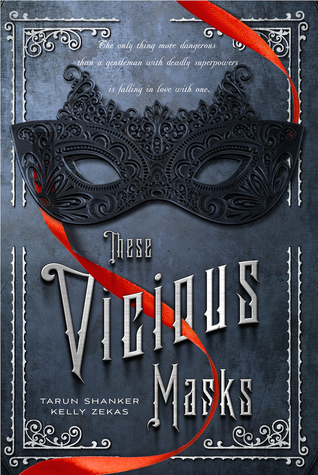 Author:
Tarun Shanker

And
Kelly Zekas
Published By:
Swoon Reads
Release Date:
February 9th 2016
Genres: Historical Fiction, Fantasy
Pages:
352
Source: Netgalley
Add it to Goodreads
Jane Austen meets X-­Men in this gripping and adventure-­filled paranormal romance set in Victorian London.
England, 1882. Evelyn is bored with society and its expectations. So when her beloved sister, Rose, mysteriously vanishes, she ignores her parents and travels to London to find her, accompanied by the dashing Mr. Kent. But they're not the only ones looking for Rose. The reclusive, young gentleman Sebastian Braddock is also searching for her, claiming that both sisters have special healing powers. Evelyn is convinced that Sebastian must be mad, until she discovers that his strange tales of extraordinary people are true—and that her sister is in graver danger than she feared.
Mild-mannered assistant by day, milder-mannered writer by night, Tarun Shanker is a New York University graduate currently living in Los Angeles. His idea of paradise is a place where kung-fu movies are projected on clouds, David Bowie's music fills the air and chai tea flows freely from fountains.
Kelly Zekas, an NYU graduate, writes, acts, and reads in New York City. YA is her absolute favorite thing on earth (other than cupcakes) and she has spent many hours crying over fictional deaths. She also started reading Harlequin romances at a possibly too early age (12?), and still loves a good paperback romance.
These Vicious Masks is their first novel.
This one started out with a bang! You have a main character who knows what she wants to do and never gives up! She was wonderful! Then toss her into a story with snark, twists, and well people with special abilities all wrapped up in a beautifully done historical setting and you have a recipe for YUMMIES!
Although I didnt see this one as a MUST READ it was so worth it! If you love X-Men and you love Jane Austen then this is the book for you! Now Im so not one for classics but this one worked so well! The blend of the two worked and brought a kick butt mystery to my reader eyes!
The only issue I had was that this is published via Swoon Reads. Another book that I loved (Velvet) was also published by this comp. And that one was so SWOONY! This one lacked the swoon. I would have loved to see more romance.
Go Into This One Knowing
Needed more Swoon!
"All opinions are 100% honest and my own."
Disclaimer: Thanks to Goodreads and Amazon for the book cover, about the book, and author information. Buying via these above links allows my site to get a % of the sale at no cost to you. This money gets used to buy items for giveaways. In accordance with FTC guidelines regarding endorsements and testimonials for bloggers, I would like my readers to know that many of the books I review are provided to me for free by the publisher or author of the book in exchange for an honest review. I am in no way compensated for any reviews on this site. All donations are to help keep this site running via costs from shipping, .com charges, and other giveaways.
https://www.facebook.com/CrossroadReview