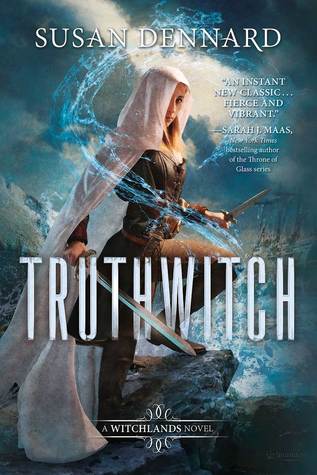 Author: Susan Dennard
Published By: Tor Teen
Release Date:
January 5th 2016
Genres: High Fantasy
Pages: 416
Source: Purchased
Add it to Goodreads
On a continent ruled by three empires, some are born with a "witchery", a magical skill that sets them apart from others.
In the Witchlands, there are almost as many types of magic as there are ways to get in trouble—as two desperate young women know all too well.
Safiya is a Truthwitch, able to discern truth from lie. It's a powerful magic that many would kill to have on their side, especially amongst the nobility to which Safi was born. So Safi must keep her gift hidden, lest she be used as a pawn in the struggle between empires.
Iseult, a Threadwitch, can see the invisible ties that bind and entangle the lives around her—but she cannot see the bonds that touch her own heart. Her unlikely friendship with Safi has taken her from life as an outcast into one of reckless adventure, where she is a cool, wary balance to Safi's hotheaded impulsiveness.
Safi and Iseult just want to be free to live their own lives, but war is coming to the Witchlands. With the help of the cunning Prince Merik (a Windwitch and ship's captain) and the hindrance of a Bloodwitch bent on revenge, the friends must fight emperors, princes, and mercenaries alike, who will stop at nothing to get their hands on a Truthwitch.
Ok so why the 4 stars!? This book blew my mind!! It will prob end up on our new MEME sometime soon. But at times I felt very confused. I ended up rereading the first half of this book twice just to make sure I had it all down the right way. And well that wasnt a bad thing since the story is amazing! But it would have been nice to just know what was going on the first time around. That being said this was still an amazing story with kick butt characters. This one is in dual POV from the two main girls in the story and it worked so well! I loved how both stories blended then were separate.
The only other issue I had was that all the witches were well witches. It would have been a little better for me at least if they would have had unique names. Reading the word witch a few hundred times during this book got old quick.
But other than those two things this book is full of action, fantasy, magic, and romance! Its a hit with this reader and I so can't wait for the next installment!
Go Into This One Knowing
Fast paced, 2 POV
"All opinions are 100% honest and my own."
Disclaimer: Thanks to Goodreads and Amazon for the book cover, about the book, and author information. Buying via these above links allows my site to get a % of the sale at no cost to you. This money gets used to buy items for giveaways. In accordance with FTC guidelines regarding endorsements and testimonials for bloggers, I would like my readers to know that many of the books I review are provided to me for free by the publisher or author of the book in exchange for an honest review. I am in no way compensated for any reviews on this site. All donations are to help keep this site running via costs from shipping, .com charges, and other giveaways.
https://www.facebook.com/CrossroadReview