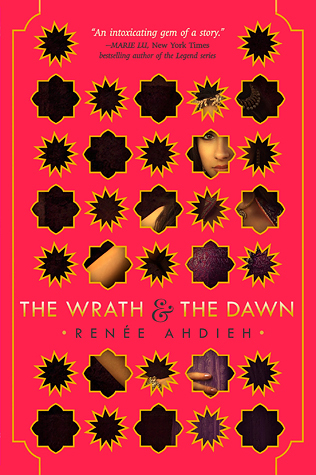 Author: Renee Ahdieh
Published By:
G.P. Putnam's Sons Books for Young Readers
Release Date:
May 12th 2015
Genres: Fantasy, Retellings
Pages: 388
Source: Owned
Add it to Goodreads
One Life to One Dawn.
In a land ruled by a murderous boy-king, each dawn brings heartache to a new family. Khalid, the eighteen-year-old Caliph of Khorasan, is a monster. Each night he takes a new bride only to have a silk cord wrapped around her throat come morning. When sixteen-year-old Shahrzad's dearest friend falls victim to Khalid, Shahrzad vows vengeance and volunteers to be his next bride. Shahrzad is determined not only to stay alive, but to end the caliph's reign of terror once and for all.
Night after night, Shahrzad beguiles Khalid, weaving stories that enchant, ensuring her survival, though she knows each dawn could be her last. But something she never expected begins to happen: Khalid is nothing like what she'd imagined him to be. This monster is a boy with a tormented heart. Incredibly, Shahrzad finds herself falling in love. How is this possible? It's an unforgivable betrayal. Still, Shahrzad has come to understand all is not as it seems in this palace of marble and stone. She resolves to uncover whatever secrets lurk and, despite her love, be ready to take Khalid's life as retribution for the many lives he's stolen. Can their love survive this world of stories and secrets?
Inspired by
A Thousand and One Nights
,
The Wrath and the Dawn
is a sumptuous and enthralling read from beginning to end.
Renée Ahdieh is a graduate of the University of North Carolina at Chapel Hill. In her spare time, she likes to dance salsa and collect shoes. She is passionate about all kinds of curry, rescue dogs, and college basketball. The first few years of her life were spent in a high-rise in South Korea; consequently, Renée enjoys having her head in the clouds.
She lives in Charlotte, North Carolina, with her husband and their tiny overlord of a dog.
The Wrath and the Dawn
is her debut.
This book asks the question what would you do to avenge your friend. What about your daughter or even love? And then it turns that question on its head to ask what would you do if you found out that the reason why this person had to die was not what you thought. That it wasnt just some no nonsense reason. But one where their death saved hundreds of lives. What then? Do you still follow the path where you destroy the person who caused you this pain? This story will make you want to kill then rip out your heart just to put it back in pieces.
This is a breathtaking story based on the 1001 nights. And it is done wonderfully! Ive never read the org. story so I'm not sure how close or faraway it is. But, I can say that I fell involve with this story shortly after starting. It is a slower story giving us a little information as it goes along not just giving you all of the mystery all at once. Which makes this a story that you want to read faster! I really loved all the characters and how the story was written we get the POV of many characters in a flow that worked so well. It really makes the story that more compelling.
The only issue I did have was all the names. I really kinda stopped reading most of them and shortening them to nicknames thought out the book. That has to be the only part I didnt love. Names and me are not friends unless they are easy to pronounce lol. I had a time with the switching POVs where I would have to try and remember who this person was. Although it did slow down the story a little. Shortly into the change I would realize who was speaking. This in no way had anything to do with the direct change of POV it was all me and my very tired 33 year old brain.
Another thing I loved about this book are the beautiful clothes and weapons. The author did a wonderful job with all the details describing them in a way that I could see them in my mind.
Although this is marketed as a 1001 Nights this could also be close to a Beauty and the Beast retelling as well. Just in a slightly different aspect.
The beginning of this was much slower than what I normally read but still somewhat fast if you can understand that. But the last 50 or so pages blew my mind completely. At one point I was crying so hard that I had to stop reading because I couldn't see the pages. This is def. one where you will want book two on had. As of right now I have to wait for may unless the publisher decided to mend my broken heart and send me an ARC of book two ( I would really love you forever!)
The ending of this one is a major MAJOR cliffhanger! I so can't wait to see what happens next come may get here already!!
Go Into This One Knowing
CLIFFHANGER! Emotional Story Good vs. Evil, Slight Magic
TISSUES you will need them on more than one occasion!
PS when making up this post I noticed that this is the authors Debut! OMG BRAVA! Well done!
My feelings through this book:
Fav Quotes:
I will see tomorrow's sunset. This I swear to you. PG. 7
And I will kill you. With my own hands. Pg. 11
No his hands dropped to her waist. Destroy me. Pg. 167
"All opinions are 100% honest and my own."
Disclaimer: Thanks to Goodreads and Amazon for the book cover, about the book, and author information. Buying via these above links allows my site to get a % of the sale at no cost to you. This money gets used to buy items for giveaways. In accordance with FTC guidelines regarding endorsements and testimonials for bloggers, I would like my readers to know that many of the books I review are provided to me for free by the publisher or author of the book in exchange for an honest review. I am in no way compensated for any reviews on this site. All donations are to help keep this site running via costs from shipping, .com charges, and other giveaways.
https://www.facebook.com/CrossroadReview