Feb kicks off with the Veronica's taking over and a Victoria along for the ride. We decided to choose a new release as well during each month! So we hope that you are going to love this as much as we do!
Our member Rachael has chosen these two books for the month of Feb.
Were so excited to share with you things from both books! So make sure to come back everyday to see what we have in store! At the end of the month well run the poll to see which book our members loved more!
Make sure to join us at the end of the month for a great giveaway!
Under the Never Sky (Under the Never Sky #1) by @rossibooks
Since she'd been on the outside, she'd survived an Aether storm, she'd had a knife held to her throat, and she'd seen men murdered.

This was worse.

Exiled from her home, the enclosed city of Reverie, Aria knows her chances of surviving in the outer wasteland--known as The Death Shop--are slim. If the cannibals don't get her, the violent, electrified energy storms will. She's been taught that the very air she breathes can kill her. Then Aria meets an Outsider named Perry. He's wild--a savage--and her only hope of staying alive.

A hunter for his tribe in a merciless landscape, Perry views Aria as sheltered and fragile--everything he would expect from a Dweller. But he needs Aria's help too; she alone holds the key to his redemption. Opposites in nearly every way, Aria and Perry must accept each other to survive. Their unlikely alliance forges a bond that will determine the fate of all who live under the never sky.
About the Author
Veronica Rossi graduated from UCLA and studied fi ne art at California College of the Arts in San Francisco. She began writing fiction for teens and received first-place awards in the Pacific Northwest Writers Association and SouthWest Writers annual contests before completing
Under the Never Sky
, the first book in her Under the Never Sky trilogy. It's since been embraced by publishers in more than twenty-six countries worldwide and optioned for fi lm by Warner Bros. Veronica lives in northern California with her husband and two sons.
Buy the Book
Add it to Goodreads
Divergent (Divergent #1) by @VeronicaRoth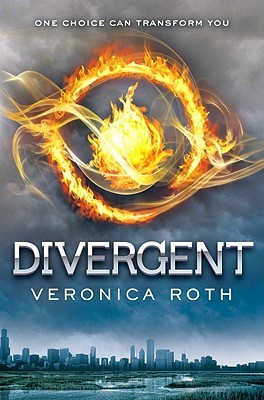 In Beatrice Prior's dystopian Chicago, society is divided into five factions, each dedicated to the cultivation of a particular virtue--Candor (the honest), Abnegation (the selfless), Dauntless (the brave), Amity (the peaceful), and Erudite (the intelligent). On an appointed day of every year, all sixteen-year-olds must select the faction to which they will devote the rest of their lives. For Beatrice, the decision is between staying with her family and being who she really is--she can't have both. So she makes a choice that surprises everyone, including herself.
During the highly competitive initiation that follows, Beatrice renames herself Tris and struggles to determine who her friends really are--and where, exactly, a romance with a sometimes fascinating, sometimes infuriating boy fits into the life she's chosen. But Tris also has a secret, one she's kept hidden from everyone because she's been warned it can mean death. And as she discovers a growing conflict that threatens to unravel her seemingly perfect society, she also learns that her secret might help her save those she loves . . . or it might destroy her.
About the Author
Veronica Roth is the #1 New York Times bestselling author of Divergent, Insurgent, Allegiant, and Four: A Divergent Collection. Now a full-time writer, Ms. Roth and her husband live near Chicago.
Buy the Book
Add it to Goodreads
Cruel Crown
(Red Queen 0.1-0.2)
by
Victoria Aveyard
Two women on either side of the Silver-Red divide tell the stories no one else knows.
Discover the truth of Norta's bloody past in these two revealing prequels to #1
New York Times
bestseller
Red Queen
.
Also includes an exclusive excerpt of the hotly anticipated second book in the Red Queen series!
Glass Sword
transports readers to the world of Silver tyranny, a Red dawn rising, and one girl's resolve to break down the system that will hold her back no longer.
Queen Song
Queen Coriane, first wife of King Tiberias, keeps a secret diary—how else can she ensure that no one at the palace will use her thoughts against her? Coriane recounts her heady courtship with the crown prince, the birth of a new prince, Cal, and the potentially deadly challenges that lay ahead for her in royal life.
Steel Scars
Diana Farley was raised to be strong, but being tasked with planting the seeds of rebellion in Norta is a tougher job than expected. As she travels the land recruiting black market traders, smugglers, and extremists for her first attempt at an attack on the capital, she stumbles upon a connection that may prove to be the key to the entire operation—Mare Barrow.
About the Author
Victoria Aveyard was born and raised in East Longmeadow, Massachusetts, a small town known only for the worst traffic rotary in the continental United States. She moved to Los Angeles to earn a BFA in screenwriting at the University of Southern California. She currently splits her time between the East and West coasts. As an author and screenwriter, she uses her career as an excuse to read too many books and watch too many movies. You can visit her online at www.victoriaaveyard.com.
Buy the Book
Add it to Goodreads