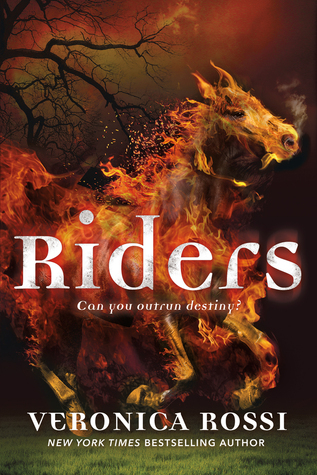 Published By: Tor Teen
Release Date: Feb. 16, 2016
Genres: Fantasy
Pages: 384
Source: Publisher
Add it to Goodreads
For eighteen-year-old Gideon Blake, nothing but death can keep him from achieving his goal of becoming a U.S. Army Ranger. As it turns out, it does.
Recovering from the accident that most definitely killed him, Gideon finds himself with strange new powers and a bizarre cuff he can't remove. His death has brought to life his real destiny. He has become War, one of the legendary four horsemen of the apocalypse.
Over the coming weeks, he and the other horsemen--Conquest, Famine, and Death--are brought together by a beautiful but frustratingly secretive girl to help save humanity from an ancient evil on the emergence.
They fail.
Now--bound, bloodied, and drugged--Gideon is interrogated by the authorities about his role in a battle that has become an international incident. If he stands any chance of saving his friends and the girl he's fallen for--not to mention all of humankind--he needs to convince the skeptical government officials the world is in imminent danger.
But will anyone believe him?
Veronica Rossi is a
New York Times
bestselling author of fiction for young adults. She completed undergraduate studies at UCLA and then went on to study fine art at the California College of the Arts in San Francisco. She lives in Northern California with her husband and two sons. When not writing, she enjoys reading, painting, and counting down the minutes until she can get back to making up stories about imaginary people.
What to say what to say? I found out we were getting this for review and I died a happy death. Well that's pretty much where the happy ends. This one started out so well. You have this guy Gideon who's been kidnapped it was amazing!
Then it goes into him explaining what happened for them to kidnap him. If that would have only lasted a few chapters this book would have been amazing. This book had a very loose plot though the entire book. The characters were ok at best and well the way it was written was just weird and really made me want to stop reading. It is told completely with Gideon telling you what happened to him. That way of telling a story fell flat very quickly.
So overview of this one is Gideon almost dies in an accident. Finds out he has super powers that aren't very super. Enter a girl named Daryn who tells him he is war. I.E. One of the 4 horsemen.
The rest of the book alters between them going all over the US and UK to find others and it flashing back to Gideon being interrogated.
Most of this book felt like a pissing contest.
The characters needed more and well I really wish that the author had decided to just start where Gideon had gotten his powers. And then ended this book with him being kidnapped. That would have been amazing. The author could have done this one like their previous book Under the Never Sky which rocked!!
For those who like this style of writing. This book has some great fight and action scenes.
PS: Veronica if your reading this please don't kill me!!
I also wanted to say that I went into this book with no expectations other than that I loved the authors other series.
Go Into This One Knowing
Great fighting scenes, Little of everything else
"All opinions are 100% honest and my own."
a Rafflecopter giveaway
Disclaimer: Thanks to Goodreads and Amazon for the book cover, about the book, and author information. Buying via these above links allows my site to get a % of the sale at no cost to you. This money gets used to buy items for giveaways. In accordance with FTC guidelines regarding endorsements and testimonials for bloggers, I would like my readers to know that many of the books I review are provided to me for free by the publisher or author of the book in exchange for an honest review. I am in no way compensated for any reviews on this site. All donations are to help keep this site running via costs from shipping, .com charges, and other giveaways.
https://www.facebook.com/CrossroadReview