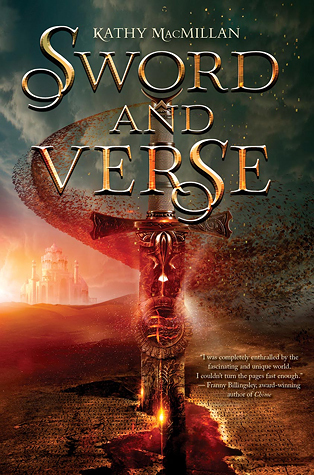 Published By: HarperTeen
Release Date:
January 19th 2016
Genres: Fantasy
Pages: 384
Source: Purchased
Add it to Goodreads
Raisa was only a child when she was kidnapped and enslaved in Qilara. Forced to serve in the palace of the King, she's endured hunger, abuse, and the harrowing fear of discovery. Everyone knows that Raisa is Arnath, but not that she is a Learned One, a part of an Arnath group educated in higher order symbols. In Qilara, this language is so fiercely protected that only the King, the Prince, and Tutors are allowed to know it. So when the current Tutor-in-training is executed for sharing the guarded language with slaves and Raisa is chosen to replace her, Raisa knows that, although she may have a privileged position among slaves, any slipup could mean death.
That would be challenging enough, but training alongside Prince Mati could be her real undoing. And when a romance blossoms between them, she's suddenly filled with a dangerous hope for something she never before thought possible: more. Then she's approached by the Resistance—an underground army of slaves—to help liberate the Arnath people. Joining the Resistance could mean freeing her people…but she'd also be aiding in the war against her beloved, an honorable man she knows wants to help the slaves.
Working against the one she loves—and a palace full of deadly political renegades—has some heady consequences. As Raisa struggles with what's right, she unwittingly uncovers a secret that the Qilarites have long since buried…one that, unlocked, could bring the current world order to its knees.
And Raisa is the one holding the key.
Kathy MacMillan has been a librarian, American Sign Language interpreter, children s performer, teacher, storyteller, and writer. Her previous work includes educator- and parent-resource books about promoting literacy through signing with all children. Sword and Verse was inspired by her research into ancient libraries and her interest in exploring the power of language. Kathy lives in Owings Mills, Maryland, with her husband and son.
I dropped the book I was supposed to read because a friend who picked this one up said that it wasn't very good. So I picked it up and read to page 80 in just a few hours. Then my life blew up with a very sick child and it took me two days to pick it up again. After that I flew through to just past 100 pages and well the story just kinda got old after that. I felt like this one was very closely related in the pacing like An Ember in the Ashes but where that one the story kept going. I felt like this one was just rambling on and on and on. So around page 110 I just had to give it up.
If your wondering why I'm giving it 3 stars its because I really did like the story but I wished it would have been a little faster paced.
Go Into This One Knowing
Starts out well then dies
"All opinions are 100% honest and my own."
Disclaimer: Thanks to Goodreads and Amazon for the book cover, about the book, and author information. Buying via these above links allows my site to get a % of the sale at no cost to you. This money gets used to buy items for giveaways. In accordance with FTC guidelines regarding endorsements and testimonials for bloggers, I would like my readers to know that many of the books I review are provided to me for free by the publisher or author of the book in exchange for an honest review. I am in no way compensated for any reviews on this site. All donations are to help keep this site running via costs from shipping, .com charges, and other giveaways.
https://www.facebook.com/CrossroadReview