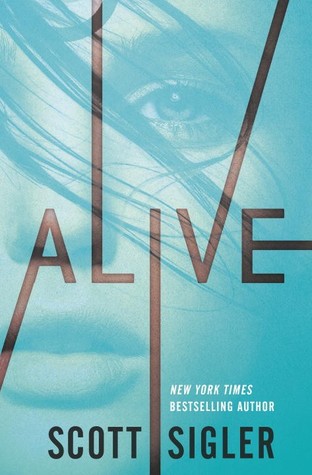 Published By: Del Rey
Release Date: July 14, 2015
Genres: Science Fiction
Pages: 368
Source: Purchased
Add it to Goodreads
From New York Times bestselling author Scott Sigler comes something utterly new: a gripping sci-fi adventure trilogy in the vein of The Hunger Games, Divergent, and The Maze Runner. A group of young adults awake in a mysterious enclosed space with no knowledge of who they are or how they got there…and an indomitable young woman must lead them not only to answers but to survival.
A young woman awakes trapped in an enclosed space. She has no idea who she is or how she got there. With only her instincts to guide her, she escapes her own confinement—and finds she's not alone. She frees the others in the room and leads them into a corridor filled with the remains of a war long past. The farther these survivors travel, the worse are the horrors they confront. And as they slowly come to understand what this prison is, they realize that the worst and strangest possibilities they could have imagined don't even come close to the truth.
New York Time
s bestselling author
Scott Sigler
is the author of fifteen novels, six novellas, and dozens of short stories. He is also the co-founder of Empty Set Entertainment, which publishes his YA Galactic Football League series. He lives in San Diego.
So first off I did DNF this one but I gave it two stars because I made it almost half way. This book had so much potential to be amazing! Like over the moon where is my movie amazing. But from all the walking walking, killing, walking, walking:
"We walk uphill. And we walk, and we walk, and we walk."
I just had to call it quits around page 140 or so.
So this one starts out very well! Like very well and very creepy and mysterious! I had gotten this from the library a few months ago read the first 50 pages and ordered it from Amazon I was in love. Well that love died 140 pages in.
So when this one opens were with our main MC she is stuck in something dark. She is 12 years old and today is her bday. She figures out how to free herself and realizes she's in a coffin. She finds others the same way and together they break free and leave the room they are in. Then they start walking for a LONG TIME! They meet up with others find a pig and shortly after that is when I just had to call it quits. The walking, fighting and well just the way it was written just didn't work for me.
For me the writing style just wasn't my cup of tea. I think this one would have been a lot better if the walking parts had been cut down to maybe 20-30 pages and the ending would have come sooner. I skipped ahead to page 200 or so and yup you guessed it they were still walking.
I thought it was kinda weird that the author put a note in the back of the book not to post reviews with spoilers. Um I hope he understands doing that is going to make people do just what you asked them not to.
This one was very Maze Runner, Lord of the Flies, and another one that I can't say since it would be very spoilery
Go Into This One Knowing
So what do you need to know going into this one heres a list.
1. Get ready to follow along with walking!
2. Everyone thinks they are 12 but have the bodies of 20 year olds.
3. LOTS OF DEATH! Bordering on Lord of the Flies
4. EVERYONE is Beautiful!
5. Lots of telling
6. This is the start of a trilogy (help us)
Want to see another amazing review of this book!
Check it out!
Kelly (and the Book Boar)
A stabbing pain jolts me awake.
It hits quick but deep, a here-then-gone stinging where my neck meets my shoulder.
Did something bite me?
No . . . just a dream. A nightmare, maybe.
"All opinions are 100% honest and my own."
Disclaimer: Thanks to Goodreads and Amazon for the book cover, about the book, and author information. Buying via these above links allows my site to get a % of the sale at no cost to you. This money gets used to buy items for giveaways. In accordance with FTC guidelines regarding endorsements and testimonials for bloggers, I would like my readers to know that many of the books I review are provided to me for free by the publisher or author of the book in exchange for an honest review. I am in no way compensated for any reviews on this site. All donations are to help keep this site running via costs from shipping, .com charges, and other giveaways.
https://www.facebook.com/CrossroadReview