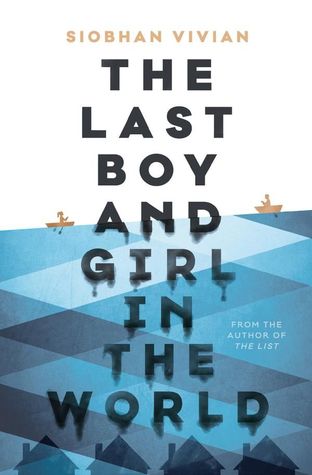 Genres: Young Adult
Pages: 320
Source: Publisher
Add it to Goodreads
What if your town was sliding underwater and everyone was ordered to pack up and leave? How would you and your friends spend your last days together?
While the adults plan for the future, box up their possessions, and find new places to live, Keeley Hewitt and her friends decide to go out with a bang. There are parties in abandoned houses. Canoe races down Main Street. The goal is to make the most of every minute they still have together.
And for Keeley, that means taking one last shot at the boy she's loved forever.
There's a weird sort of bravery that comes from knowing there's nothing left to lose. You might do things you normally wouldn't. Or say things you shouldn't. The reward almost always outweighs the risk.
Almost.
It's the end of Aberdeen, but the beginning of Keeley's first love story. It just might not turn out the way she thought. Because it's not always clear what's worth fighting for and what you should let become a memory.
Siobhan Vivian is the author of THE LAST BOY AND GIRL IN THE WORLD (April 2016), as well as THE LIST, NOT THAT KIND OF GIRL, SAME DIFFERENCE, and A LITTLE FRIENDLY ADVICE. She also co-wrote BURN FOR BURN series with her best friend JENNY HAN. She currently lives in Pittsburgh.
This is a great story of growing up and loss. And it is great! The characters are relatable and the plot felt predictable but it wasn't!! Totally drew me in and didn't let go. It had its' slow moments about half way through but still enjoyable. Deff a good read!!
"All opinions are 100% honest and my own."
Disclaimer: Thanks to Goodreads and Amazon for the book cover, about the book, and author information. Buying via these above links allows my site to get a % of the sale at no cost to you. This money gets used to buy items for giveaways. In accordance with FTC guidelines regarding endorsements and testimonials for bloggers, I would like my readers to know that many of the books I review are provided to me for free by the publisher or author of the book in exchange for an honest review. I am in no way compensated for any reviews on this site. All donations are to help keep this site running via costs from shipping, .com charges, and other giveaways.
https://www.facebook.com/CrossroadReview