Siren's Song
(The Storm Siren Trilogy #3)
by
Mary Weber
Publisher: Thomas Nelson / HarperCollins
Release Date: March 1st 2016
Genre: Young Adult, Fantasy, Magic, Fiction, Paranormal
Rate: 5
Synopsis:
Nym and Draewulf prepare to face off in a battle destined to destroy more lives than it saves.
With the loss of Tulla still fresh in mind, Rasha's fate unknown, and Lord Myles taken over by the dark ability, Nym and the few Bron soldiers rush to warn Cashlin's queen. Only to discover it may already be too late for the monarch and her eerie kingdom. As the Luminescents are sifting through Nym's past memories and the queen is reading into her future, Nym is given a choice of how to defeat Draewulf, but the cost may be more than she can bear. And even then there are no guarantees.
With that reality burrowing into her bones—along with the guilt of the lives she will sacrifice—Nym returns to her homeland of Faelen to raise an army of peasants through promises of freedom. But when the few friends she has left, along with the world and citizens she loves, are staring down the face of a monster and his undead army, will Nym summon every element her blood is capable of controlling . . . or surrender to a different strength—one of sacrifice?
Because in the end, death may be more merciful for them all.
Where to start with this one is so hard. Im writing this right after I finished. This one is a keeper readers! It will rip your heart out just to put it back and then at the end make you burst out laughing! I think my husband thinks I'm bi polar now. Nothing like crying to laughing out loud.

The one thing I will say about this one is that I NEED MORE! I want a short novella that is set a few years in the future where everyone is married and popping out little magic babies!!!

Ok so with the reviews. This was a doozy! It starts off where book two ended. Nym's man has been saved kinda of. Nym has found out that she is the rightful ruler of Faelen. And well the stupid Lord Myles has sucked up the creepy power that Nym had. ugh.

This one follows Nym while she tries to save everyone, freeing her people, and really trying to figure out if she will have to give the ultimate sacrifice in the end.

The characters in this one come full circle. We get to see some old friends and well the final battle has an Avatar feel to it. Where the world comes to their aid. But even that may not be enough to save them. I love how the author did the ending to this one the switching of POV at the end was really awesome! Loved seeing this from Eogan POV. I really hope that if the author/publisher decides to give us more from this world we get to see more from his POV.

The storyline is in par with the other two books and this one comes to a head with the final battle. Its a give or take all battle that either they will win or not. We do loose some much loved characters which so made me cry my eyes out. But it all works out in the end.

I am finding it so hard to review this without giving away anything. I just don't see how these books and this one esp. could be any better. Well other than it not to be ending. I think my fav side character in these last two books have to be Kel he is awesome!


Im am just so so I don't know all over the place in a good way with this book I loved it and you will to. So are you a fan of fantasy? Then pick this up NOW!! You won't be disappointed!
Go Into This One Knowing
MUST READ! No love triangle, Great Ending!
Click each cover to buy the book via amazon!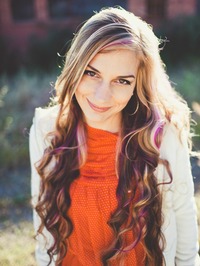 Mary Weber is a ridiculously uncoordinated girl plotting to take over make-believe worlds through books, handstands, and imaginary throwing knives. In her spare time, she feeds unicorns, sings 80's hairband songs to her three muggle children, and ogles her husband who looks strikingly like Wolverine. They live in California, which is perfect for stalking L.A. bands, Joss Whedon, and the ocean. Her debut YA fantasy novel,
STORM SIREN
and
SIREN'S FURY
are available now in bookstores and online, and SIREN'S SONG will be out March 2016 from TN HarperCollins.
Disclaimer: Thanks to Goodreads and Amazon for the book cover, about the book, and author information. Buying via these above links allows my site to get a % of the sale at no cost to you. This money gets used to buy items for giveaways. In accordance with FTC guidelines regarding endorsements and testimonials for bloggers, I would like my readers to know that many of the books I review are provided to me for free by the publisher or author of the book in exchange for an honest review. I am in no way compensated for any reviews on this site. All donations are to help keep this site running via costs from shipping, .com charges, and other giveaways.
https://www.facebook.com/CrossroadReview