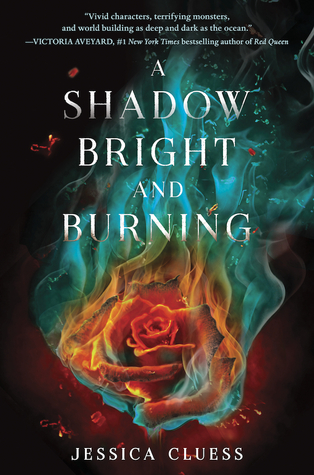 I am Henrietta Howel.
The first female sorcerer in hundreds of years.
The prophesied one.
Or am I?
Henrietta Howel can burst into flames.
Forced to reveal her power to save a friend, she's shocked when instead of being executed, she's invited to train as one of Her Majesty's royal sorcerers.
Thrust into the glamour of Victorian London, Henrietta is declared the chosen one, the girl who will defeat the Ancients, bloodthirsty demons terrorizing humanity. She also meets her fellow sorcerer trainees, handsome young men eager to test her power and her heart. One will challenge her. One will fight for her. One will betray her.
But Henrietta Howel is not the chosen one.
As she plays a dangerous game of deception, she discovers that the sorcerers have their own secrets to protect. With battle looming, what does it mean to not be the one? And how much will she risk to save the city—and the one she loves?
JESSICA CLUESS is a writer, a graduate of Northwestern University, and an unapologetic nerd. After college, she moved to Los Angeles, where she served coffee to the rich and famous while working on her first novel. When she's not writing books, she's an instructor at Writopia Lab, helping kids and teens tell their own stories. Visit her at jessicacluess.com and follow her on Twitter at @JessCluess.
I knew shortly into this one that it was going to be a rave 5 star review! This one blends history, magic, creatures like no other, romance, and more all into one killer story that I just couldn't put down!
This one is a fairly dark story with a lot of gore! This one for me was up there with Red Queen! This alternate history of Victorian England worked so well!! I do wish we would have gotten a little more history but thats ok. This blended so well. Magicians, Witches, and Sorcerers collide in this epic fantasy!
This book hooked me from the start and I just couldn't put it down! I stayed up extremely late to finish it and well I preordered it right after I finished. The author's writing is extremely addicting in the best ways possible.
Ok so the story. The romance in this was almost non existent except for one part. I do hope that the romance in this picks up in the following books. It does have a slight love square but I think I really know who she should end up with. So for those who hate love triangles, don't worry it doesnt take away from the story and its very slight.
The characters Howel is such a great character. She doesnt take anyones crap even after she finds out she's the chosen one. She doesnt conform to the way people think a lady should act. She's also not scared to put a man in his place which really wasnt something that happened back then. And I loved her so much!!!
The side characters were very good as well. The main ones were very well formed and each had their own voices. However, some of the other sorcerers didn't really stand out. So although they were there they really didn't have their own voices at all and the pretty much blended. Really for the sorcerers there were only 4 of them that really stood out.
This one does have 2 slight twists toward the end parts. I really wish they would have been more OMG like in Red Queen. But where that one was a yell out loud O SHIT! This one more emotional vs. plain surprise. If you understand what I'm trying to say. lol.
If you love fantasy pick this one up it won't do you wrong and you will be Burning with anticipation to get to the next page!
Book in a Pinch
History, Magic, Creatures, and Major World Building!
Go Into This One Knowing
No cliffhanger, VERY Slight love square, Lots of Surprises
"All opinions are 100% honest and my own."
a Rafflecopter giveaway
Disclaimer: Thanks to Goodreads and Amazon for the book cover, about the book, and author information. Buying via these above links allows my site to get a % of the sale at no cost to you. This money gets used to buy items for giveaways. In accordance with FTC guidelines regarding endorsements and testimonials for bloggers, I would like my readers to know that many of the books I review are provided to me for free by the publisher or author of the book in exchange for an honest review. I am in no way compensated for any reviews on this site. All donations are to help keep this site running via costs from shipping, .com charges, and other giveaways.
Comments are DELICIOUS! and now that were using this new format for comments the TOP 3 Commenters will all win bookish goodies each month! So that is just one more reason to comment! This is open to everyone! So get commenting!
Don't forget to check out our Facebook, Twitter, Instagram, and Pinterest!
@CrossroadReview