Hey guys and welcome to another edition of Sample Sunday! Each week I open an ARC that is up coming and share the first page.
This week we had one that I so couldn't wait to read!! A Shadow Bright and Burning! I was so sad when this was out at BEA. Then so beyond excited when I got the chance to pick it up at BookCon! This cover is just so beautiful!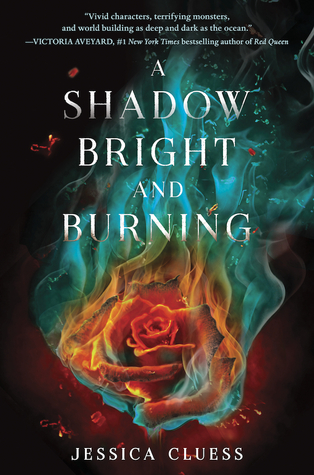 I am Henrietta Howel. The first female sorcerer. The prophesied one. Or am I?
Henrietta Howel can burst into flames. When she's brought to London to train with Her Majesty's sorcerers, she meets her fellow sorcerer trainees, young men eager to test her powers and her heart. One will challenge her. One will fight for her. One will betray her. As Henrietta discovers the secrets hiding behind the glamour of sorcerer life, she begins to doubt that she's the true prophesied one. With battle looming, how much will she risk to save the city—and the one she loves?
JESSICA CLUESS is a writer, a graduate of Northwestern University, and an unapologetic nerd. After college, she moved to Los Angeles, where she served coffee to the rich and famous while working on her first novel. When she's not writing books, she's an instructor at Writopia Lab, helping kids and teens tell their own stories. Visit her at jessicacluess.com and follow her on Twitter at @JessCluess.
Chapter 1
The sorcerer arrived on a Saturday. Sara, barely six years old, squeezed my hand as we walked the school corridors toward the headmaster's parlor. I'd allowed her to wear her gray cook indoors because the morning fires hadn't yet been laid. Fog pressed in against the high windows, darkening the stone hall. For Sarah's sake, I kept a smile on my face. My fear could not win today.
"Will he beat me, Henrietta? I mean, Miss Howel?" She often forgot to use my last name, but I'd only become a teacher two months before. Sometimes when I stood at the head of the classroom to give a lesson, I'd look at the empty place on the student bench where I used to sit, and feel like a fraud.
"A sorcerer would never harm children," I said, squeezing her hand in return. Granted, I'd never met a sorcerer, but Sarah didn't need to know that.
She smiled and signed. How simple to reassure her. How difficult to reassure myself, for why would a royal sorcerer travel to Yorkshire for an audience with a child? Was the war against the Ancients going so poorly that he needed young girls, armed with sewing needles and a little French, for the front lines?
"All opinions are 100% honest and my own."
Disclaimer: Thanks to Goodreads and Amazon for the book cover, about the book, and author information. Buying via these above links allows my site to get a % of the sale at no cost to you. This money gets used to buy items for giveaways. In accordance with FTC guidelines regarding endorsements and testimonials for bloggers, I would like my readers to know that many of the books I review are provided to me for free by the publisher or author of the book in exchange for an honest review. I am in no way compensated for any reviews on this site. All donations are to help keep this site running via costs from shipping, .com charges, and other giveaways.
Comments are DELICIOUS! and now that were using this new format for comments the TOP 3 Commenters will all win bookish goodies each month! So that is just one more reason to comment! This is open to everyone! So get commenting!
Don't forget to check out our Facebook, Twitter, Instagram, and Pinterest!
@CrossroadReview
Save
Save