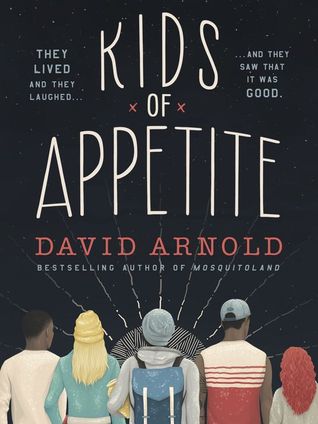 The bestselling author of Mosquitoland brings us another batch of unforgettable characters in this tragicomedy about first love and devastating loss.
Victor Benucci and Madeline Falco have a story to tell.
It begins with the death of Vic's father.
It ends with the murder of Mad's uncle.
The Hackensack Police Department would very much like to hear it.
But in order to tell their story, Vic and Mad must focus on all the chapters in between.
This is a story about:
1. A coded mission to scatter ashes across New Jersey.
2. The momentous nature of the Palisades in winter.
3. One dormant submarine.
4. Two songs about flowers.
5. Being cool in the traditional sense.
6. Sunsets & ice cream & orchards & graveyards.
7. Simultaneous extreme opposites.
8. A narrow escape from a war-torn country.
9. A story collector.
10. How to listen to someone who does not talk.
11. Falling in love with a painting.
12. Falling in love with a song.
13. Falling in love.
This title will be released on September 20, 2016.
David Arnold
lives in Lexington, Kentucky, with his (lovely) wife and (boisterous) son. He is the critically-acclaimed author of
Mosquitoland
, which has been translated into over a dozen languages. Previous jobs include freelance musician/producer, stay-at-home dad, and preschool teacher. He is a fierce believer in the power of kindness and community. And pesto. He believes fiercely in pesto.
You can learn more at davidarnoldbooks.com and follow him on Twitter @roofbeam.
This one Im not sure what it was but I was bored and just couldn't finish it.
"Arnold proves his worth as a top-notch storyteller on his first literary go-round, which is reminiscent of Ferris Bueller's Day Off if done by John Hughes with Jack Kerouac. . . Mosquitoland stings in all the right places, which is why it will no doubt be many teenagers' new favorite book and win over the crustiest old-timer, too." —
USA Today
"David Arnold combines brio with compassion in this captivating first novel, which holds surprises, big and small, right to the end. . . Illuminating" —
The Washington Post
"David Arnold's sparkling, startling, laugh-out-loud debut. . . speaks to the sweetness of life, the courage of love and the blinkers that adolescents may need to remove to see what is truly around them." —
Wall Street Journal
"It's a breath of fresh air when a novel like David Arnold's Mosquitoland bucks the usual classifications and stands defiantly alone. . . like any odyssey worth embarking on, what the heroine—and the reader—finds along the way is far more interesting than we ever could have expected." —
Entertainment Weekly
"Memorable" —
People
"One of the most talked about books of the year" —
Teen Vogue
"In Mosquitoland, David Arnold has created one of the most unique narrative voices to show up in the world of young adult fiction. I don't remember life before Mim, and I don't want to. Mosquitoland is equal parts sharp, sad, and surreal. This book is genius, war paint and all."
—
John Corey Whaley
, Printz-winning author of Where Things Come Back
"David Arnold's writing is both heartfelt and hilarious. You will fall in love with Mim, even as her grand journey will keep you guessing. Mosquitoland reminds us that sometimes imperfect is just perfect."
—
Ruta Sepetys
, New York Times bestselling author of Between Shades of Gray
★ "Arnold pens a stunning debut, showcasing a cast of dynamic characters. . . Mesmerizing." —Kirkus,
starred review
★ "Wholly enjoyable. . . There is no shortage of humor in Mim's musings, interspersed with tender scenes and a few heart-pounding surprises. Mim's triumphant evolution is well worth the journey." —Publishers Weekly,
starred review
★ "Arnold boldly tackles mental illness and despair, and sexual assault and sexual identity, without ever once losing the bigheartedness of the story. . . In the words of one of Mim's Greyhound seatmates, Mosquitoland has pizazz—lots and lots of it." —Booklist,
starred review
★ "Arnold's characters are captivating and believable. . . This is a very engaging and compelling story about individuals who succeed or fail to manage life's challenges. An action-packed thriller with a touch of humor and romance." —School Library Connection,
starred review
★ "Arnold skillfully sets up doubts in readers' minds about how reliable Mim's impressions are, even as her razor-sharp humor and intelligence make us want to believe her. David Arnold is a write to watch." —Shelf Awareness,
starred review
"All opinions are 100% honest and my own."
Disclaimer: Thanks to Goodreads and Amazon for the book cover, about the book, and author information. Buying via these above links allows my site to get a % of the sale at no cost to you. This money gets used to buy items for giveaways. In accordance with FTC guidelines regarding endorsements and testimonials for bloggers, I would like my readers to know that many of the books I review are provided to me for free by the publisher or author of the book in exchange for an honest review. I am in no way compensated for any reviews on this site. All donations are to help keep this site running via costs from shipping, .com charges, and other giveaways.
Comments are DELICIOUS! and now that were using this new format for comments the TOP 3 Commenters will all win bookish goodies each month! So that is just one more reason to comment! This is open to everyone! So get commenting!
Don't forget to check out our Facebook, Twitter, Instagram, and Pinterest!
@CrossroadReview
Save
Save