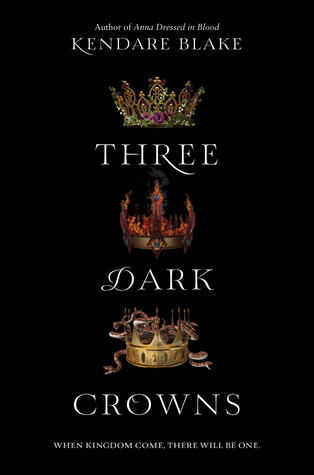 Every generation on the island of Fennbirn, a set of triplets is born: three queens, all equal heirs to the crown and each possessor of a coveted magic. Mirabella is a fierce elemental, able to spark hungry flames or vicious storms at the snap of her fingers. Katharine is a poisoner, one who can ingest the deadliest poisons without so much as a stomachache. Arsinoe, a naturalist, is said to have the ability to bloom the reddest rose and control the fiercest of lions.
But becoming the Queen Crowned isn't solely a matter of royal birth. Each sister has to fight for it. And it's not just a game of win or lose…it's life or death. The night the sisters turn sixteen, the battle begins. The last queen standing gets the crown.
If only it was that simple. Katharine is unable to tolerate the weakest poison, and Arsinoe, no matter how hard she tries, can't make even a weed grow. The two queens have been shamefully faking their powers, taking care to keep each other, the island, and their powerful sister Mirabella none the wiser. But with alliances being formed, betrayals taking shape, and ruthless revenge haunting the queens' every move, one thing is certain: the last queen standing might not be the strongest…but she may be the darkest.
Kendare Blake holds an MA in creative writing from Middlesex University in northern London. She is the author of
Anna Dressed in Blood
, a Cybils Awards finalist;
Girl of Nightmares; Antigoddess; Mortal Gods;
and
Ungodly
. Her books have been translated into eighteen languages, have been featured on multiple best-of-year lists, and have received many regional and librarian awards. Kendare lives and writes in Kent, Washington. Visit her online at www.kendareblake.com.
I received this as an arc and then again as a finished copy. The first time I barely got through the first three chapters. The second I made it just past 143. Ad this was chosen for my online bookclub via BooksAmino.
For me this book was very slow and very boring. The first three chapters pretty much have no happiness, no real action, and if you ask me no depth. I wish that there would have been three books and each one would have focuses on one of the sisters. I think that would have been very interesting.
But as it sits although I do kind of want to know what happened. I don't feel invested enough in the characters to read on.
Another thing that was fairly irritating was the writing style. It felt like it was being told va. shown.
The author did a wonderful job coming up with this world and the characters. But for me the execution of it all just didn't work out for me.
"All opinions are 100% honest and my own."
Disclaimer: Thanks to Goodreads and Amazon for the book cover, about the book, and author information. Buying via these above links allows my site to get a % of the sale at no cost to you. This money gets used to buy items for giveaways. In accordance with FTC guidelines regarding endorsements and testimonials for bloggers, I would like my readers to know that many of the books I review are provided to me for free by the publisher or author of the book in exchange for an honest review. I am in no way compensated for any reviews on this site. All donations are to help keep this site running via costs from shipping, .com charges, and other giveaways.
Comments are DELICIOUS! and now that were using this new format for comments the TOP 3 Commenters will all win bookish goodies each month! So that is just one more reason to comment! This is open to everyone! So get commenting!
Don't forget to check out our Facebook, Twitter, Instagram, and Pinterest!
@CrossroadReview