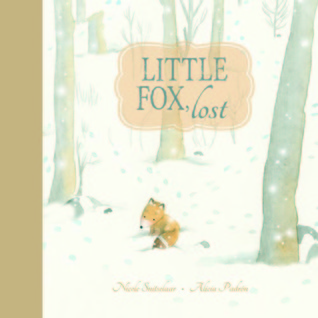 Little Fox s paw prints make such beautiful pictures in the newly fallen snow. Left here, right there, around that fallen branch he scatters them throughout the forest until, too late, he finds he can t retrace his steps back home. Lost and afraid, Little Fox wants to agree when a kind, old owl offers to fly ahead and guide him. But Mama Fox has warned him often: If ever you are lost, my child, / don t let a stranger guide you. / Be still and I will search the wild / until I am beside you. In gentle, expressive text, Nicola Snitselaar spins a tale that goes far beyond a simple stranger danger warning. Her Little Fox, equipped with his own ingenuity as well as his mother s wisdom, cleverly finds a way for the other animals to attract Mama Fox s attention while keeping himself safe. Alicia Padron renders this resilient Little Fox and his forest companions in soft watercolors, their rounded shapes and endearing features easing any anxiety that little listeners might feel about being lost."
When I was a little girl, I spent hours looking with wonder at the pictures in books. I used to imagine what it would be like to dive in one of the pages and live inside the story of the book. Now I get to illustrate those pictures for a living!
I like to paint with watercolor and use the computer to finish my illustrations. I work in a tiny blue studio with a whippet by my side and a doxie on my lap.
I hope you and your kids enjoy my books as much as I do creating them.
Feel free to watch my video below.
www.aliciapadron.com
This was such a cute little book, with colorful classic artwork. Its gives little kids the right information about talking to strangers and what to do if they get lost.
"All opinions are 100% honest and my own."
Disclaimer: Thanks to Goodreads and Amazon for the book cover, about the book, and author information. Buying via these above links allows my site to get a % of the sale at no cost to you. This money gets used to buy items for giveaways. In accordance with FTC guidelines regarding endorsements and testimonials for bloggers, I would like my readers to know that many of the books I review are provided to me for free by the publisher or author of the book in exchange for an honest review. I am in no way compensated for any reviews on this site. All donations are to help keep this site running via costs from shipping, .com charges, and other giveaways.
Comments are DELICIOUS! and now that were using this new format for comments the TOP 3 Commenters will all win bookish goodies each month! So that is just one more reason to comment! This is open to everyone! So get commenting!
Don't forget to check out our Facebook, Twitter, Instagram, and Pinterest!
@CrossroadReview