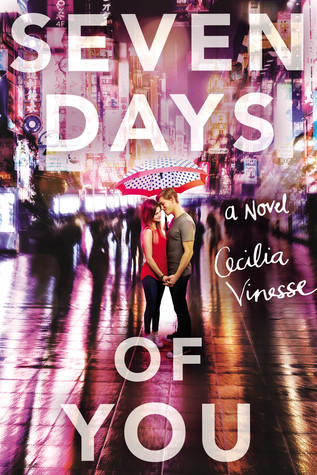 Sophia has seven days left in Tokyo before she moves back to the States. Seven days to say good-bye to the electric city, her wild best friend, and the boy she's harbored a semi-secret crush on for years. Seven perfect days…until Jamie Foster-Collins moves back to Japan and ruins everything.
Jamie and Sophia have a history of heartbreak, and the last thing Sophia wants is for him to steal her leaving thunder with his stupid arriving thunder. Yet as the week counts down, the relationships she thought were stable begin to explode around her. And Jamie is the one who helps her pick up the pieces. Sophia is forced to admit she may have misjudged Jamie, but can their seven short days of Tokyo adventures end in anything but good-bye?
Cecilia Vinesse is a dual citizen of the US and the UK, and, like the main character of
Seven Days of You
, went to an international school in Tokyo. She is a graduate of Barnard College in New York and holds a master's in creative writing from St. Andrews. She lives in England.
I went into Seven Days of You a little skeptical because I thought it was going to be very instalove-y and melodramatic. But Vinesse Did a great job of writing a very grounded and realistic story that could absolutely happen at this point in someones life. The writing in this book is beautiful and really captures the things being discussed in this book. The way that Vinesse balances how Sophia is dealing with her departure from Tokyo and her new relationship is beautiful and leaves the reader satisfied with how they are handled. Even within the span of seven days I think that the relationship between Jamie and Sophia is not rushed and felt very natural; but it did help that they knew each other before this week. I also think that it is important to recognize that this book is a lovely coming of age story. Sophia is realizing that fighting so hard for people that don't deserve her love may not be worth it. She is learning to re-evaluate who is really worth her time and effort, and who it may be time to let go of. Overall I think that this book is a well paced romance and inspiring coming of age story that would appeal to a lot of people.
Book in a Pinch
Jamie has a week to say goodbye to everything she knows in Tokyo, but when Jamie arrives everything changes.
Go Into This One Knowing
Some of the relationships in this one are a little complex and hard to understand at times.
"All opinions are 100% honest and my own."
a Rafflecopter giveaway
Disclaimer: Thanks to Goodreads and Amazon for the book cover, about the book, and author information. Buying via these above links allows my site to get a % of the sale at no cost to you. This money gets used to buy items for giveaways. In accordance with FTC guidelines regarding endorsements and testimonials for bloggers, I would like my readers to know that many of the books I review are provided to me for free by the publisher or author of the book in exchange for an honest review. I am in no way compensated for any reviews on this site. All donations are to help keep this site running via costs from shipping, .com charges, and other giveaways.
Comments are DELICIOUS! and now that were using this new format for comments the TOP 3 Commenters will all win bookish goodies each month! So that is just one more reason to comment! This is open to everyone! So get commenting!
Don't forget to check out our Facebook, Twitter, Instagram, and Pinterest!
@CrossroadReview