Thanks for checking out this weeks WOW! At the time that I am writing this I am getting ready to read Red Queen for the third time so I can read King's Cage. I so cant wait for Mary Weber's newest title!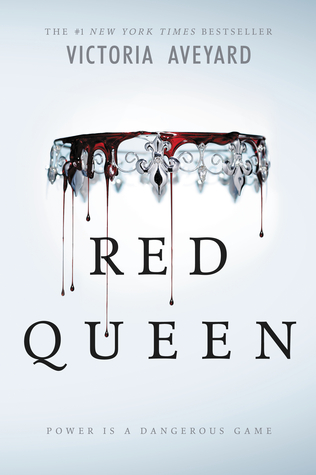 This is a world divided by blood – red or silver.
The Reds are commoners, ruled by a Silver elite in possession of god-like superpowers. And to Mare Barrow, a seventeen-year-old Red girl from the poverty-stricken Stilts, it seems like nothing will ever change.
That is, until she finds herself working in the Silver Palace. Here, surrounded by the people she hates the most, Mare discovers that, despite her red blood, she possesses a deadly power of her own. One that threatens to destroy the balance of power.
Fearful of Mare's potential, the Silvers hide her in plain view, declaring her a long-lost Silver princess, now engaged to a Silver prince. Despite knowing that one misstep would mean her death, Mare works silently to help the Red Guard, a militant resistance group, and bring down the Silver regime.
But this is a world of betrayal and lies, and Mare has entered a dangerous dance – Reds against Silvers, prince against prince, and Mare against her own heart.
Victoria Aveyard was born and raised in East Longmeadow, Massachusetts, a small town known only for the worst traffic rotary in the continental United States. She moved to Los Angeles to earn a BFA in screenwriting at the University of Southern California. She currently splits her time between the East and West coasts. As an author and screenwriter, she uses her career as an excuse to read too many books and watch too many movies. You can visit her online at www.victoriaaveyard.com.
This title will be released on June 6, 2017.
Ever since the Delonese ice-planet arrived eleven years ago, Sofi's dreams have been vivid. Alien. In a system where Earth's corporations rule in place of governments and the humanoid race orbiting the moon are allies, her only constant has been her younger brother, Shilo. As an online gamer, Sofi battles behind the scenes of Earth's Fantasy Fighting arena where Shilo is forced to compete in a mix of real and virtual blood sport. But when a bomb takes out a quarter of the arena, Sofi's the only one who believes Shilo survived. She has dreams of him. And she's convinced he's been taken to the ice-planet.
Except no one but ambassadors are allowed there.
For Miguel, Earth's charming young playboy, the games are of a different sort. As Ambassador to the Delonese, his career has been built on trading secrets and seduction. Until the Fantasy Fight's bomb goes off. Now the tables have turned and he's a target for blackmail. The game is simple: Help the blackmailers, or lose more than anyone can fathom, or Earth can afford.
Mary Weber is the multiple-award-winning author of the bestselling young adult Storm Siren Trilogy, and The Evaporation of Sofi Snow series - all by HarperCollins. An avid high school, middle school, and conference speaker, Mary's passion is helping others find their voice amid a world that often feels too loud. When she's not plotting adventures involving tough girls who frequently take over the world, Mary sings 80's hairband songs to her three muggle children, and ogles her husband who looks strikingly like Wolverine. They live in California which is perfect for stalking L.A. bands, Joss Whedon, and the ocean.
Mary's debut, Storm Siren, was featured in the Scholastic School Book Fairs, and her novels have been endorsed by bestselling authors Marissa Meyer, Jay Asher, Wendy Higgins, CJ Redwine, and Jonathan Maberry.
You can also find Mary's fun interviews in the paperback of Marissa Meyer's NYT bestselling, CRESS, and in Jay Asher's 13 REASONS WHY movie tie-in edition. Most recently, you can see her and her family as extras in the NETFLIX Original Series, 13 REASONS WHY.
She gets nerdy at @maryweber.com, FACEBOOK @MaryWeberAuthor, INSTAGRAM @MaryWeberAuthor, TWITTER @mchristineweber, and GOODREADS. Come say hi!!
Disclaimer:
"All opinions are 100% honest and my own."
Thanks to Goodreads and Amazon for the book cover, about the book, and author information. Buying via these links allows my site to get a % of the sale at no cost to you. This money gets used to buy items for giveaways.
FTC Guidelines: In accordance with FTC guidelines regarding endorsements and testimonials for bloggers, I would like my readers to know that many of the books I review are provided to me for free by the publisher or author of the book in exchange for an honest review. If am compensated for any reviews on this site I will state that post has been sponsored.
Donations: All donations are to help keep this site running via costs from shipping, .com charges, and other giveaways.
Comments are DELICIOUS! and now that were using this new format for comments the TOP 3 Commenters will all win bookish goodies each month! So that is just one more reason to comment! This is open to everyone! So get commenting!
Don't forget to check out our Facebook, Twitter, Instagram, and Pinterest!
@CrossroadReview