I really hope you enjoyed today's posts. Here is my review of The Mark of the Tala! I hope you enjoy it.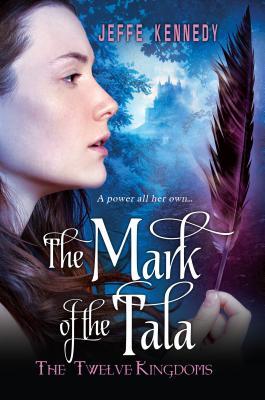 Queen Of The Unknown
The tales tell of three sisters, daughters of the high king. The eldest, a valiant warrior-woman, heir to the kingdom. The youngest, the sweet beauty with her Prince Charming. No one says much about the middle princess, Andromeda. Andi, the other one.
Andi doesn't mind being invisible. She enjoys the company of her horse more than court, and she has a way of blending into the shadows. Until the day she meets a strange man riding, who keeps company with wolves and ravens, who rules a land of shapeshifters and demons. A country she'd thought was no more than legend--until he claims her as its queen.
In a moment everything changes: Her father, the wise king, becomes a warlord, suspicious and strategic. Whispers call her dead mother a traitor and a witch. Andi doesn't know if her own instincts can be trusted, as visions appear to her and her body begins to rebel.
For Andi, the time to learn her true nature has come. .
Jeffe Kennedy
is an award winning author. Her most recent works the fantasty series Twelve Kingdoms, the fantasy romance novels of A Covenant of Thorns, the contemporary BDSM novellas of the Facets of Passion, and an erotic contemporary serial novel,
Master of the Opera
. Readers can visit her website at: JeffeKennedy.com or every Sunday at the popular
Word Whores
blog.
This book was beyond amazing! I do still stand my by thoughts that if the amount of sex would have been taken out this could have been an even more amazing young adult title. It has all the makings of an epic story that would have been up there with Maas and Aveyard. I really loved how the woman in this story were very strong. And how Andi grew over the course of this title. I know that the next book is in her sister's POV and I wonder if we will see Andie again. I would really love to have another story in her POV to see how she is doing and what she is up too with her world.
The world building in this one was breathtaking. We got to see so much of it in this title. I really loved how the worlds of magic and the mundane meshed in this fantasy. I can't wait to see where the author takes us in the next five books.
a Rafflecopter giveaway
Disclaimer:
"All opinions are 100% honest and my own."
Thanks to Goodreads and Amazon for the book cover, about the book, and author information. Buying via these links allows my site to get a % of the sale at no cost to you. This money gets used to buy items for giveaways.
FTC Guidelines: In accordance with FTC guidelines regarding endorsements and testimonials for bloggers, I would like my readers to know that many of the books I review are provided to me for free by the publisher or author of the book in exchange for an honest review. If am compensated for any reviews on this site I will state that post has been sponsored.
Donations: All donations are to help keep this site running via costs from shipping, .com charges, and other giveaways.
Comments are DELICIOUS! and now that were using this new format for comments the TOP 3 Commenters will all win bookish goodies each month! So that is just one more reason to comment! This is open to everyone! So get commenting!
Don't forget to check out our Facebook, Twitter, Instagram, and Pinterest!
@CrossroadReview