Welcome to today's post! Today we have an expert of the first full novel in the Twelfth Kingdom series. We hope you enjoy it!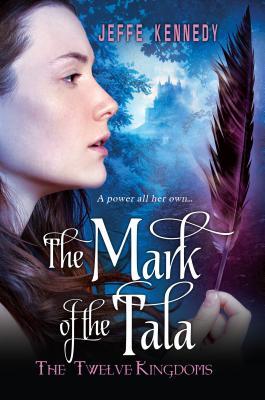 Queen Of The Unknown
The tales tell of three sisters, daughters of the high king. The eldest, a valiant warrior-woman, heir to the kingdom. The youngest, the sweet beauty with her Prince Charming. No one says much about the middle princess, Andromeda. Andi, the other one.
Andi doesn't mind being invisible. She enjoys the company of her horse more than court, and she has a way of blending into the shadows. Until the day she meets a strange man riding, who keeps company with wolves and ravens, who rules a land of shapeshifters and demons. A country she'd thought was no more than legend--until he claims her as its queen.
In a moment everything changes: Her father, the wise king, becomes a warlord, suspicious and strategic. Whispers call her dead mother a traitor and a witch. Andi doesn't know if her own instincts can be trusted, as visions appear to her and her body begins to rebel.
For Andi, the time to learn her true nature has come. .
Jeffe Kennedy
is an award winning author. Her most recent works the fantasty series Twelve Kingdoms, the fantasy romance novels of A Covenant of Thorns, the contemporary BDSM novellas of the Facets of Passion, and an erotic contemporary serial novel,
Master of the Opera
. Readers can visit her website at: JeffeKennedy.com or every Sunday at the popular
Word Whores
blog.
He sighed, and there might have been disappointment in it. "Put your dagger away and give me the ring, please."
"Believe me, you won't get the drop on me so easily again. And the blade is at the wrong angle—you'd only get it stuck in a rib."
"It would hurt, though." I tried to sneer at him. He regarded me somberly, eyes dark.
"Yes, but my heart would be in no danger. The ring, Andromeda."
I put the knife back in its sheath—what else could I do?—and opened my palm. He took the ring from me and brought it to his lips.
"I hadn't dared hope that I might be able to do this for the first time myself. Your other hand, please."
Mesmerized, I gave him my hand and watched him slide the ring onto my finger.
"My vow to you, Andromeda. I accept your plan. No harm will come to your sister."
And to me? The dark stone glittered in the moonlight, my hand white against his fine black gloves.
"I can't wear it—they'll see."
"For now. Then, keep it hidden, until our wedding."
Our wedding. I knew that. Still the word blew through me like a hard fall.
"And to seal our pact—a kiss." His voice echoed rough with hunger.
"What will it do?"
I cleared my throat and made myself look at him, his lips, just a hand's length away. "It binds me to you somehow, doesn't it?"
He smiled, a flash of true amusement. "Not in the way you mean."
"Does it have to be now? Can't it be…later?"
"No. I think not. I've given you my vow; now I require yours. A kiss, Andromeda."
"Everyone calls me Andi." I wanted to sound strong, but my voice came out nervous.
He lifted his hands and cupped my face, coaxing me to look into his eyes, black in the darkness.
"I'm not everyone else. My kiss."
With a sense of fatality, I nodded and steeled myself. I would have to give him much more than this. He sighed out a long breath, as if he'd been holding it, and dropped his head, angling a bit. Unable to bear it, I closed my eyes.
His lips brushed over mine, warm and soft. Just a whisper of a kiss. He pulled back and I opened my eyes, surprised. He flashed a grin at me, then wrapped his arms around me and pulled me in tight against his hard body. His mouth captured mine again, lips feeding on mine, coaxing and pulling, until I opened up and his tongue swept mine, hot, arousing.
Fire blazed through me. That animal something that had been pacing through my heart, clawing at my veins, swelled up and rose to meet him. I kissed him back, ferocious, starving.
I clung to him, rising on my toes to better reach him, to press my body against his, my fingers tangling in the black silk of his hair while his hands plunged under the cloak to roam my body.
He hummed, low in his throat, a pleased male animal. The sound wrenched me back to reality. I pulled back but he held me tight.
Dropping my weight, I fixed my palms on his chest and pushed, with more strength than I ever remembered having, sending him staggering back an arm's length, a surprised and delighted laugh escaping him.
"It's not funny," I hissed. "And be quiet—what if we're discovered?"
"Then I take you with me now and we begin our wedding night that much sooner."
a Rafflecopter giveaway
Disclaimer:
"All opinions are 100% honest and my own."
Thanks to Goodreads and Amazon for the book cover, about the book, and author information. Buying via these links allows my site to get a % of the sale at no cost to you. This money gets used to buy items for giveaways.
FTC Guidelines: In accordance with FTC guidelines regarding endorsements and testimonials for bloggers, I would like my readers to know that many of the books I review are provided to me for free by the publisher or author of the book in exchange for an honest review. If am compensated for any reviews on this site I will state that post has been sponsored.
Donations: All donations are to help keep this site running via costs from shipping, .com charges, and other giveaways.
Comments are DELICIOUS! and now that were using this new format for comments the TOP 3 Commenters will all win bookish goodies each month! So that is just one more reason to comment! This is open to everyone! So get commenting!
Don't forget to check out our Facebook, Twitter, Instagram, and Pinterest!
@CrossroadReview