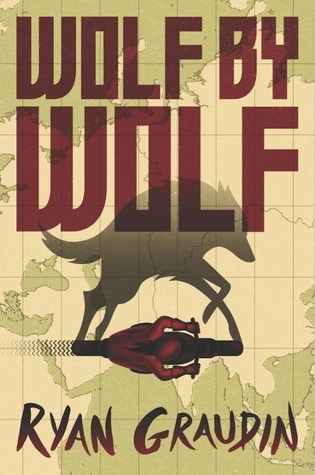 Her story begins on a train.
The year is 1956, and the Axis powers of the Third Reich and Imperial Japan rule. To commemorate their Great Victory, Hitler and Emperor Hirohito host the Axis Tour: an annual motorcycle race across their conjoined continents. The victor is awarded an audience with the highly reclusive Adolf Hitler at the Victor's Ball in Tokyo.
Yael, a former death camp prisoner, has witnessed too much suffering, and the five wolves tattooed on her arm are a constant reminder of the loved ones she lost. The resistance has given Yael one goal: Win the race and kill Hitler. A survivor of painful human experimentation, Yael has the power to skinshift and must complete her mission by impersonating last year's only female racer, Adele Wolfe. This deception becomes more difficult when Felix, Adele twin's brother, and Luka, her former love interest, enter the race and watch Yael's every move.
But as Yael grows closer to the other competitors, can she bring herself to be as ruthless as she needs to be to avoid discovery and complete her mission?
From the author of
The Walled City
comes a fast-paced and innovative novel that will leave you breathless.
Ryan Graudin was born in Charleston, South Carolina with a severe case of wanderlust. When she's not traveling, she's busy writing and spending time with her husband and wolf dog. She is also the author of the All That Glows series,
The Walled City
, and
Wolf by Wolf.
This book was very fast paced and fantastic! This entire story works on two different 'what if' scenarios. The first is if Hitler would have won WWII and the second was if the horrific experiments that were done on prisoners would have created a change in some of the people like Yael. For those who do not know some of the camps that held prisoners were performing many experiences on them. From trying to change their eye color trying to cure them of being Jew etc.
The story kicks off very well it draws you into it and you really just can't put it down. This is another story that is set in alternating sections of the present and the past. So we learn about Yael's life in bits and pieces and that worked out very well. It was a great way to learn about her in this story both what was happening in the now and happened to her when she was little. You couldn't help feeling for her and her situation.
The author note at the end was very enlighting it lets us know information that you may not pick up on during the story. This book deals with the exploration of identity and how the situations of what the Nazi's have done. Yael's power of being a skin shifter means that she can turn into anyone so she really doesn't have an identity of her own. I remember her saying many times that she didn't remember what she looked like. This book deals with a lot of inner struggle for the MC as well as a few other characters. I can't wait to see how this is dealt with in book two.
The world building at large was ok. I really enjoyed all of the details that were put into this one. It made the story feel alive as you read through its pages. All of the characters were great and I hope that we get to see some more of the same ones when I start Blood for Blood here in the next few days. There is one major twist in this book during the ending that I am surprised that I didn't see coming. I kinda feel like it was staring me in the face and I just kinda had my eyes closed. It was a nice surprise.
The ending to this one didn't really end on a cliffhanger but the story was good enough and emotionally charged enough that I really really want to read book two right now!! But I have to wait for it to come in the mail.
If your looking for a new story that will have you emotionally charged by the end check this one out!
Disclaimer:
"All opinions are 100% honest and my own."
Thanks to Goodreads and Amazon for the book cover, about the book, and author information. Buying via these links allows my site to get a % of the sale at no cost to you. This money gets used to buy items for giveaways.
FTC Guidelines: In accordance with FTC guidelines regarding endorsements and testimonials for bloggers, I would like my readers to know that many of the books I review are provided to me for free by the publisher or author of the book in exchange for an honest review. If am compensated for any reviews on this site I will state that post has been sponsored.
Donations: All donations are to help keep this site running via costs from shipping, .com charges, and other giveaways.
Comments are DELICIOUS! and now that were using this new format for comments the TOP 3 Commenters will all win bookish goodies each month! So that is just one more reason to comment! This is open to everyone! So get commenting!
Don't forget to check out our Facebook, Twitter, Instagram, and Pinterest!
@CrossroadReview