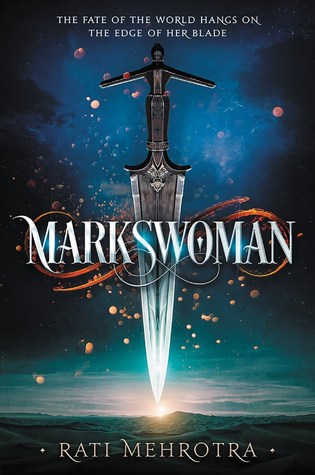 Publisher:
Harper Voyager
Number of Pages: 384
Recommended Age Group: Young Adult
Fiction Genre: Fantasy, Post-Apocalyptic
How I Acquired this book: Edelweiss
Time it took to read: 5H 45M
About the Book:
Kyra is the youngest Markswoman in the Order of Kali, a highly trained sisterhood of elite warriors armed with telepathic blades. Guided by a strict code of conduct, Kyra and the other Orders are sworn to protect the people of Asiana. But to be a Markswoman, an acolyte must repudiate her former life completely. Kyra has pledged to do so, yet she secretly harbors a fierce desire to avenge her dead family.
When Kyra's beloved mentor dies in mysterious circumstances, and Tamsyn, the powerful, dangerous Mistress of Mental Arts, assumes control of the Order, Kyra is forced on the run. Using one of the strange Transport Hubs that are remnants of Asiana's long-lost past, she finds herself in the unforgiving wilderness of desert that is home to the Order of Khur, the only Order composed of men. Among them is Rustan, a young, disillusioned Marksman whom she soon befriends.
Kyra is certain that Tamsyn committed murder in a twisted bid for power, but she has no proof. And if she fails to find it, fails in her quest to keep her beloved Order from following Tamsyn down a dark path, it could spell the beginning of the end for Kyra--and for Asiana.
But what she doesn't realize is that the line between justice and vengeance is razor thin . . . thin as the blade of a knife.
This title will be released on January 23, 2018.
About the Author:
Writer, traveler, and full-time working Mom. I'm looking for a way to clone myself. Or, failing that, get a robot to do all my boring work so I can write full-time. I am represented by the wonderful Mary. C. Moore of Kimberley Cameron & Associates. My first book, Markswoman, is scheduled for publication in Jan 2018 by Harper Voyager.
I'm a bookworm – always have been. A few of my favorite writers are Gene Wolfe, Margaret Attwood, Ursula Le Guin, Philip Pullman, Octavia Butler, Jack Vance, Neil Gaimam, Stephen King, JRR Tolkien, JK Rowling (who can't love Harry Potter?) and – yes – Jane Austen. I love to read and I love to write. Check out some of my stories at http://ratiwrites.com/short-fiction/

Noteworthy experiences while reading this book: When I saw this book I had to read it. I thought Harper Voyager did adult books but it looks like this is a young adult book. So that was kind of weird. The self-harm in this book didn't really bother me at all and it was kind of like Carve the Mark.


Check out author's other books or related books? Yes, the world building in this one was wonderful.

Recommend this book? Yes as long as you understand that this book has self-harm as well as it's a little confusing at times.
Notes and Opinions: So this one I decided to read after seeing that over!! OMG, it is just the best ever!! Early on in this book, I realized that I was reading a Young Adult story vs. an Adult one. So that was a little off-putting as I thought I was getting into a great Adult Fantasy. Once I got over that I started to enjoy it a lot! The world building is spot on and some of the best that I have read. It made the story come alive and you could see how much the author spent on perfecting it. The characters were all wonderful as well. I think that a few of them could have used a little more shine but for the most part, they all stood on their own and were fabulous. The story itself was a little confusing at times and I found myself having to go back and reread parts to figure out what I had missed. This one as a whole I think will be one of those books that you either love it or you hate it. I could see this one for fans of Carve the Mark I did like it but I didn't love it.
Go Into This One Knowing: Self Harm, Insta-love, Slightly Confusing at times
Disclaimer:
"All opinions are 100% honest and my own."
Thanks to Goodreads and Amazon for the book cover, about the book, and author information. Buying via these links allows my site to get a % of the sale at no cost to you. This money gets used to buy items for giveaways.
FTC Guidelines: In accordance with FTC guidelines regarding endorsements and testimonials for bloggers, I would like my readers to know that many of the books I review are provided to me for free by the publisher or author of the book in exchange for an honest review. If am compensated for any reviews on this site I will state that post has been sponsored.
Donations: All donations are to help keep this site running via costs from shipping, .com charges, and other giveaways.
Comments are DELICIOUS! and now that were using this new format for comments the TOP 3 Commenters will all win bookish goodies each month! So that is just one more reason to comment! This is open to everyone! So get commenting!
Don't forget to check out our Facebook, Twitter, Instagram, and Pinterest!