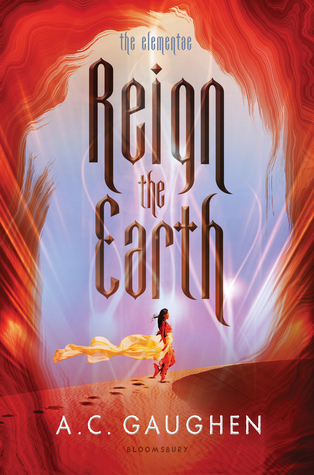 Number of Pages: 448
Recommended Age Group:
Young Adult
How I Acquired this book: Netgalley
Time it took to read: 8H 30M
About the Book:
Shalia is a proud daughter of the desert, but after years of devastating war with the adjoining kingdom, her people are desperate for peace. Willing to trade her freedom to ensure the safety of her family, Shalia becomes Queen of the Bonelands.





But she soon learns that her husband, Calix, is motivated only by his desire to exterminate the Elementae—mystical people who can control earth, wind, air, and fire. Even more unsettling are Shalia's feelings for her husband's brother, which unleash a power over the earth she never knew she possessed—a power that could get her killed. As rumors of a rebellion against Calix spread, Shalia must choose between the last chance for peace and her own future as an Elementae.





This intense, richly drawn high-fantasy by the author of

Scarlet will

hold readers spellbound.
This title will be released on January 30, 2018.
About the Author:
A.C. Gaughen
is the author of
Scarlet, Lady Thief
, and
Lion Heart
. She serves on the board of directors for the non-profit Boston GLOW to make sure young women have the support they need to become powerful leaders in their communities. She has a Masters in Creative Writing from St. Andrews University in Scotland and a Masters in Education from Harvard University.
www.acgaughen.com
@acgaughen
Noteworthy experiences while reading this book: This one came alive like a flower opening if you ask me. It was slightly slower than some books but was more like a slow burn that worked out so well for this story! It was fast to ignite my passion for reading it and I was so amazed at where it took me.
Check out author's other books or related books? This is the second book that I have tried from this author. It is also the first one that I have loved hands down. I will most definitely check out this author's other titles in the future. Including book two of this series.

Recommend this book? YES! If you are reading this PRE ORDER THIS BOOK NOW!!!
Notes and Opinions: OMG what can I say about this book? When I started it I thought I was going to hate it. It made me feel like I had been dropped into the middle of a story. It starts out with

Shalia

getting married and I felt a little lost on what was going on. But that soon changed with just a few chapters. I was hooked after that and I couldn't put it down. The world building in this one had me remembering parts of another fantasy series which had the same feel to it. that one also had a race of people being hunted tortured and killed becuase of what they could do. This one also had a very surprising twist towards the end that I didn't see coming at all.
Reading this, you could really feel the passion the author had for this story. I read the acknowledgments afterward and I can't help but feel for what the author has gone through and I hope she gets better. But you could tell that this story was a work of deep love. I laughed and cried during this story and there is one solid cliffhanger at the end that I and crossing my fingers turn out well. The story is one that will stick with me for some time and it is also one that will rip at your heartstrings. I felt everything that
Shalia felt with love, loss, and heartbreak.
The characters in this one were just fantastic! We had the cruel king who could never really love anyone, the protective brother who is always there, the girl who didn't know exactly what she was getting into and tried to change the soul and heart of the man she thought she could love. As well as the undying devotion of her guards and others around her. Each character stood on their own two feet and I would love a few novellas about each one's background. I think it would enrich the story even more.
This tale of a girl who thought she was just going to become queen for peace was so much more. It weaved a tale of a girl who became a woman and a queen and would stop at nothing to strive for the peace she held so dear. I can't wait to see where the author takes us next on this amazing journey.
Go Into This One Knowing: Very Slight Love Triangle, Magic, T
orture
, Death, Murder
Disclaimer:
"All opinions are 100% honest and my own."
Thanks to Goodreads and Amazon for the book cover, about the book, and author information. Buying via these links allows my site to get a % of the sale at no cost to you. This money gets used to buy items for giveaways.
FTC Guidelines: In accordance with FTC guidelines regarding endorsements and testimonials for bloggers, I would like my readers to know that many of the books I review are provided to me for free by the publisher or author of the book in exchange for an honest review. If am compensated for any reviews on this site I will state that post has been sponsored.
Donations: All donations are to help keep this site running via costs from shipping, .com charges, and other giveaways.
Comments are DELICIOUS! and now that were using this new format for comments the TOP 3 Commenters will all win bookish goodies each month! So that is just one more reason to comment! This is open to everyone! So get commenting!
Don't forget to check out our Facebook, Twitter, Instagram, and Pinterest!