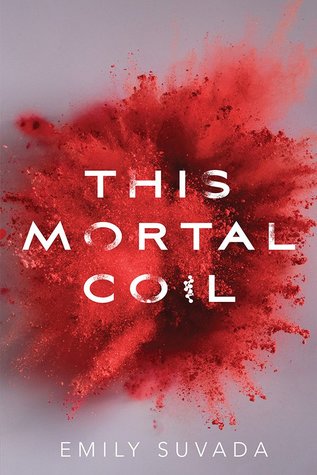 Number of Pages: 425
Recommended Age Group: Young Adult
Fiction Genre: Science Fiction, Dystopian
How I Acquired this book: Edelweiss
Time it took to read: 6H 32M
About the Book:
Catarina Agatta is a hacker. She can cripple mainframes and crash through firewalls, but that's not what makes her special. In Cat's world, people are implanted with technology to recode their DNA, allowing them to change their bodies in any way they want. And Cat happens to be a gene-hacking genius.
That's no surprise, since Cat's father is Dr. Lachlan Agatta, a legendary geneticist who may be the last hope for defeating a plague that has brought humanity to the brink of extinction. But during the outbreak, Lachlan was kidnapped by a shadowy organization called Cartaxus, leaving Cat to survive the last two years on her own.
When a Cartaxus soldier, Cole, arrives with news that her father has been killed, Cat's instincts tell her it's just another Cartaxus lie. But Cole also brings a message: before Lachlan died, he managed to create a vaccine, and Cole needs Cat's help to release it and save the human race.
Now Cat must decide who she can trust: The soldier with secrets of his own? The father who made her promise to hide from Cartaxus at all costs? In a world where nature itself can be rewritten, how much can she even trust herself?
About the Author:
Emily Suvada was born and raised in Australia, where she went on to earn a degree in mathematics. She previously worked as a data scientist, and still spends hours writing algorithms to perform tasks which would only take her minutes to complete on her own. When not writing, she can be found hiking, cycling, and conducting chemistry experiments in her kitchen. She currently lives in Portland, Oregon, with her husband.
Noteworthy experiences while reading this book: This was way too long it could have been way shorter with it being over 400 pages it just dragged on and on and on.
Check out author's other books or related books? Probably not

Recommend this book? No
Notes and Opinions: Well this is another one that is pretty much nothing new in the world of young adult science fiction. It has things in it that we have seen over and over and it is nothing new at all. The length of the book didn't help it at all as parts of this one were very slow. For me, I think it could have been shortened considerably just by taking out a lot of the descriptions it has. I did like the twist that this one had which was pretty ingenious and kinda nasty but still great. I think this one will hit some people but for me, it was just ok. It felt like a chore to read. The characters were very much teenagers which were great. I just wish overall this was shorter as I think it would have sped it up and made it one killer book.
Go Into This One Knowing: VERY long and slow, LOTS of descriptions
Disclaimer:
"All opinions are 100% honest and my own."
Thanks to Goodreads and Amazon for the book cover, about the book, and author information. Buying via these links allows my site to get a % of the sale at no cost to you. This money gets used to buy items for giveaways.
FTC Guidelines: In accordance with FTC guidelines regarding endorsements and testimonials for bloggers, I would like my readers to know that many of the books I review are provided to me for free by the publisher or author of the book in exchange for an honest review. If am compensated for any reviews on this site I will state that post has been sponsored.
Donations: All donations are to help keep this site running via costs from shipping, .com charges, and other giveaways.
Comments are DELICIOUS! and now that were using this new format for comments the TOP 3 Commenters will all win bookish goodies each month! So that is just one more reason to comment! This is open to everyone! So get commenting!
Don't forget to check out our Facebook, Twitter, Instagram, and Pinterest!