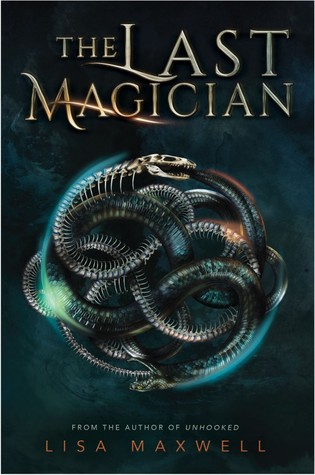 Stop the Magician. Steal the book. Save the future.

In modern-day New York, magic is all but extinct. The remaining few who have an affinity for magic—the Mageus—live in the shadows, hiding who they are. Any Mageus who enters Manhattan becomes trapped by the Brink, a dark energy barrier that confines them to the island. Crossing it means losing their power—and often their lives.

Esta is a talented thief, and she's been raised to steal magical artifacts from the sinister Order that created the Brink. With her innate ability to manipulate time, Esta can pilfer from the past, collecting these artifacts before the Order even realizes she's there. And all of Esta's training has been for one final job: traveling back to 1902 to steal an ancient book containing the secrets of the Order—and the Brink—before the Magician can destroy it and doom the Mageus to a hopeless future.

But Old New York is a dangerous world ruled by ruthless gangs and secret societies, a world where the very air crackles with magic. Nothing is as it seems, including the Magician himself. And for Esta to save her future, she may have to betray everyone in the past.
Publisher: Simon and Schuster
Recommended Age: Young Adult
Genre: Fantasy, Science Fiction (Time Travel)
How I Acquired this book: LitJoyCrate & Publisher (eARC)
About the Author:
Lisa Maxwell is the author of
The Last Magician
,
Unhooked
,
Sweet Unrest
, and
The Gathering Deep
. She grew up in Akron, Ohio, and has a PhD in English. She's worked as a teacher, scholar, editor, writer, and bookseller (at Little Professor Book Center in Alabama). When she's not writing books, she's a professor at a local college. She now lives near Washington, DC, with her husband and two sons. You can follow her on Twitter @LisaMaxwellYA or learn more about her upcoming books at Lisa-Maxwell.com.
Noteworthy experiences while reading this book: This is another book that I have had for a little while and when I started it with all the flopping back and forth through time and the different characters. I really thought that I was going to DNF it. I was entirely somewhat lost to start with, but I am glad I stuck it out because this book was mind blowing!!
Check out author's other books? YES
Recommend this book? YES YES YES!!!!
Notes and Opinions: This book was so confusing when I first started it. It had multi POVs and a few different time periods, and I ended up going back and forth to remember which time I was in. But I stuck it out even though the confusing and I am so glad that I did because this book is one for the best sellers list!! It was just that good. It was a blend of fantasy with magic or what is known as affinities and science fiction with the time travel. This unknown mixture worked out so well for this story. It made the plot flow very well once it got started and the POVs made so much sense.
So if you start this one and want to give up DON'T!!!! It gets so much better!! So don't give up on it.
Once the story really got going what I found was a tale full of mystery, magic, and suspense and well if you want by social media you will have seen my reaction to a few giant twists towards the end. I didn't see them coming at all. I really hope that this is going to be a series because so far according to Goodreads it is a stand alone. And well that makes me very sad especially with the way that the book ended. Not exactly on a cliffhanger but enough of one that I need the next story like NOW!! NOW NOW!!!
The characters in this one were fabulous. I loved how Maxwell gives us just enough of each character to make the story come alive. So you know things but not really anything that the other characters don't know. It was a marvelous way of telling a story, and it worked out to the advantage of when the ending came with those two twists I was speechless.
I really loved Esta, and a certain last magician their light romance and snarky way of talking and acting with each other was great. I really loved how Harte reacted to seeing Esta in a towel and seeing her ankles since it was 1902. It was these small historical things about how everyone should act that made this story feel so real.
If you are looking for a new book filled with magic and mystery, look no further than this one right here!
Go Into This One Knowing: Light Romance, Magic, Mystery, Time Travel, Slight Cliffhanger
Disclaimer:
"All opinions are 100% honest and my own."
Thanks to Goodreads and Amazon for the book cover, about the book, and author information. Buying via these links allows my site to get a % of the sale at no cost to you. This money gets used to buy items for giveaways.
FTC Guidelines: In accordance with FTC guidelines regarding endorsements and testimonials for bloggers, I would like my readers to know that many of the books I review are provided to me for free by the publisher or author of the book in exchange for an honest review. If am compensated for any reviews on this site I will state that post has been sponsored.
Donations: All donations are to help keep this site running via costs from shipping, .com charges, and other giveaways.
Comments are DELICIOUS! and now that were using this new format for comments the TOP 3 Commenters will all win bookish goodies each month! So that is just one more reason to comment! This is open to everyone! So get commenting!
Don't forget to check out our Facebook, Twitter, Instagram, and Pinterest!
Save
Save